London (CNN)Boris Johnson's star turn on the world stage has already been undermined by his previous greatest accomplishment: Brexit.
The British Prime Minister is set to welcome US President Joe Biden to Cornwall, England, on Thursday for a bilateral meeting where the pair are scheduled to discuss a new "Atlantic Charter" — a modern update to the joint statement between Winston Churchill and Franklin Delano Roosevelt on the challenges facing the world after the Second World War. Biden is in the UK because Johnson is hosting the G7 summit in what was supposed to be Britain's big return to the international arena. Instead, Thursday's talks will most likely be overshadowed by heated discussions on the current and very real danger of violence erupting in Northern Ireland, as the real-world consequences of Brexit continue to undermine the peace deal brokered by the US in 1998. The Times of London newspaper reported Wednesday that America's senior diplomat in Britain, on the orders of Biden, berated Johnson's chief Brexit negotiator, David Frost, for "inflaming" tensions on the island of Ireland.Read MoreThe report said that in recent days, US envoy Yael Lempert issued a "demarche" — a diplomatic reprimand that is usually reserved for hostile states rather than allies — over the UK government's failure to implement a part of the Brexit deal brokered with Brussels last year that is designed to protect peace on the island. "This is wrong. First, this discussion wasn't directed by the President. It was not heightened. As with any ally, we have diplomatic conversations about areas where we have concern at many levels," a senior Biden administration official told CNN.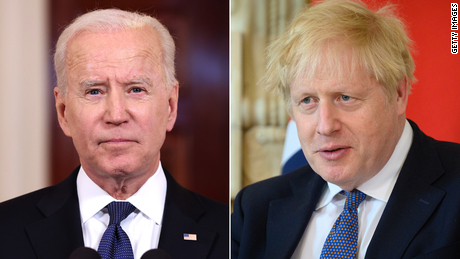 Biden and Johnson expected to commit to lifting US-UK Covid-19 travel restrictionsBut it is well-known that Biden is an opponent of any version of Brexit that undermines the peace in Ireland, and the President plans to press Johnson on the issue during their talks, other senior administration officials said."President Biden has been crystal clear about his rock-solid belief in the Good Friday Agreement as the foundation for peaceful coexistence in Northern Ireland. That agreement must be protected, and any steps that imperil or undermine it will not be welcomed by the United States," Biden's national security adviser Jake Sullivan told reporters aboard Air Force One on the way to Europe.He declined to say whether the US believed Johnson was taking steps to imperil the agreement."I'm only going to say that President Biden is going to make statements in principle on this front," Sullivan said. "He's not issuing threats or ultimatums; he's going to simply convey his deep-seated belief that we need to stand behind and protect this protocol."The British government said it would not comment on the matter until after Thursday's talks. Unusually for a meeting between US and UK leaders, there will be no joint press conference afterward, just a background briefing for journalists and a readout. It's not implausible that this is because it would be impossible for the issue of Northern Ireland to be dodged, creating a difficult diplomatic moment on camera, something both men would rather avoid. The problems Brexit has created for Northern Ireland are very serious. The UK province shares a border with the Republic of Ireland, which is an EU member state. The "Northern Ireland Protocol", which forms part of the UK-EU Brexit deal, chiefly seeks to prevent a hard border between Northern Ireland and the Republic. It does so by keeping Northern Ireland in the EU's customs area and single market for goods, meaning there is no need for physical checks for goods crossing the border. The arrangement has created a de facto sea border between Northern Ireland and the rest of the UK, which has enraged unionists in Northern Ireland and in Britain. But Johnson has yet to fully implement the protocol, for fear of food shortages in Northern Ireland among other things. This, the EU correctly points out, is a violation of the treaty Johnson agreed with Brussels and a breach of international law. In March, the EU launched legal action against the UK over London's unilateral attempts to extend the Brexit grace period on food imports to Northern Ireland. Talks between Frost and his EU counterpart on how to resolve the impasse over the protocol failed to produce a solution on Wednesday, and there is no clear sign of one in the immediate term.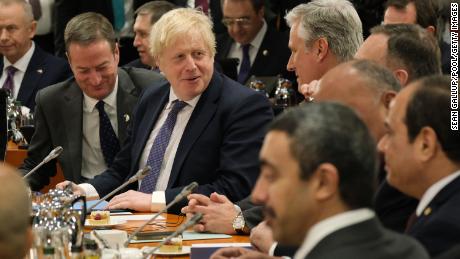 Boris Johnson will finally tell the world what post-Brexit Britain is forBack in September before he won the presidency, Biden warned that the Good Friday Agreement could not "become a casualty of Brexit," and said that any UK-US trade deal, touted by many as the most significant outcome of leaving the EU, "must be contingent upon respect for the agreement and preventing the return of a hard border. Period."He doubled down on this stance as President-elect in November, saying the "idea of having the border north and south once again being closed, it's just not right."Johnson, meanwhile, has signaled a willingness to move on from Brexit, telling the Atlantic magazine in an article published this week that he had "sucked that lemon dry." While the prime minister might want to talk instead this week about the UK's future as a leading light of the international community, he cannot escape the fact that Brexit has fundamentally changed the perception of the UK among its allies, and that it will continue to have a real-world impact both inside and outside the UK for decades to come.
Source Link:
https://www.cnn.com/2021/06/10/uk/joe-biden-boris-johnson-brexit-northern-ireland-intl/index.html
[]
Comments
comments