London (CNN)For the second time this year, the coronavirus has found its way to the very top of British politics and forced Prime Minister Boris Johnson into self-quarantine.
On Sunday night, Johnson tweeted that he must "self-isolate for two weeks, after being in contact with someone with Covid-19." "It doesn't matter that I've had the disease and I'm bursting with antibodies," he said in a Monday video message, adding that he "felt great" and would keep leading the UK virus response, as well as his government's plans to "#BuildBackBetter."Yet the optimism in that message, including the hashtag, masks the reality of exactly how enormous a week this is for the Johnson premiership, and how much of a blow it is for the PM to be trapped in solitude. Downing Street had spent the weekend dealing with the fallout from three straight days of chaos, in which two of his most senior advisers dramatically resigned following allegations that they had been briefing viciously against both Johnson himself and his fiancée, Carrie Symonds.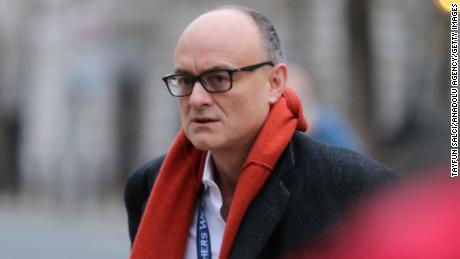 Johnson has mismanaged Covid, Brexit and the economy. Now his inner circle is falling outRead MoreThe advisers in question, Lee Cain and Dominic Cummings, were among the most controversial and disliked members of Johnson's inner circle and have been accused by numerous people in government of being power hungry and self-interested. Before Johnson's self-quarantining, the turmoil in Downing Street had dominated five days of coverage in the UK, overshadowing what is arguably an even bigger headache for the PM than the coronavirus. Brexit really is now on the home stretch. The current transition period — which was designed to prevent a sudden halt of the flow of goods, among other things, between the UK and the European Union — ends on December 31. If the two sides are unable to strike a free trade agreement before that date, then the chaotic no-deal cliff edge — which many fear would lead to shortages in things like food, toilet paper and medicine — would be the new reality. Thursday's video conference of the EU27 is the penultimate time that the heads of government from the bloc's member states are scheduled to meet before the end of the year. The final meeting of 2020, on December 10, is considered too late in the day. As has been the case for months, a deal is in sight and the areas of agreement vastly outweigh the areas of disagreement. However, the key stumbling blocks that have prevented a deal remain. The first and most important is Brussels' insistence on a level playing field in exchange for access to the EU's single market. This, for some time, has been a red line for the UK, which objects to being bound by EU competition rules prohibiting how the government could use state aid to help the growth of British enterprise.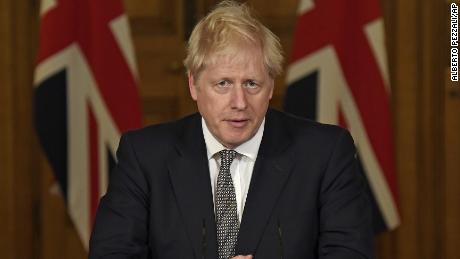 Boris Johnson accused of 'giving in to scientific advisers' as England heads for lockdownThe two other key sticking points — fishing rights and the involvement of EU law in the arbitration of any deal — are also difficult, though it's easier to see a path to agreement in both.It has for some time been assumed that when the talks reached the stages that they are at now (with legal texts on the table and a deal within grasp), the negotiators, who are civil servants acting on the mandate of their political leadership, would make way for political leaders to bridge the final gaps. With Johnson in self-quarantine, any hope of a last-minute dash reminiscent of his meeting with then-Irish Taoiseach Leo Varadkar to reach the first Brexit deal is out the window. Of course, Johnson is able to pick up the phone and speak to anyone he likes. Members of both the UK and EU's negotiation teams have previously told CNN, however, that virtual meetings during the first European lockdown seriously damaged progress in talks and that informal, one-to-one chats had helped considerably in previous rounds of negations. If no deal is agreed before Thursday, things really do get hairy. "It's possible talks could go on next week, the EU has a near-limitless capacity for flexibility on time," says Anand Menon, professor of European politics at King's College London. "However, the question is how much flexibility is there politically, given the time left. If the current deal is intolerable to the UK, then there's no real time to negotiate anything substantively different." Of course, there are more issues than Brexit competing for the precious little time that Johnson has, now that he's locked up for two weeks. There's the small matter of the UK's response to the pandemic, which has been criticized from nearly every possible perspective.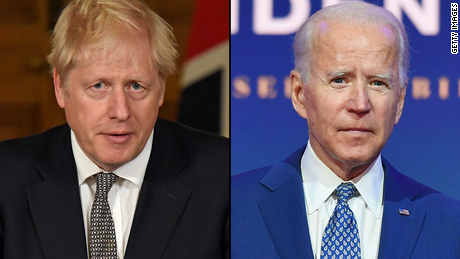 Biden saw echoes of Trump in Boris Johnson. Will it complicate the US-UK 'special relationship'?There was also hope that after the drama of last week, Johnson could reboot his premiership and tell his party faithful, many of whom despised Cummings and Cain, that his focus is firmly on his domestic, "leveling-up" agenda. He had hoped to meet Conservative MPs in person to further reassure them. Last week's bombshells provided hope for many who felt that Cummings had too much influence on Johnson's thinking. From the pandemic response, which Johnson's lawmakers felt was a little trigger happy on lockdowns, to the numerous Brexit red lines, many in the governing Conservative Party felt that Cummings had too much power over Johnson. It's plausible that Cummings' departure could see a softening on certain issues and the securing of a deal with the EU. It is possible that Johnson can finally shake off the idea that it was Cummings who was leading most government policy, including the pandemic response. However, the reality is that Johnson is now locked behind closed doors with the Brexit clock ticking, an overflowing domestic inbox and little wiggle room to handle either of the crises that could await him in December: a Christmas canceled by the coronavirus and a no-deal Brexit for New Year.
Source Link:
https://www.cnn.com/2020/11/16/uk/boris-johnson-covid-brexit-week-analysis-gbr-intl/index.html
Bad Request
Your browser sent a request that this server could not understand.
Size of a request header field exceeds server limit.
Comments
comments