(CNN)Brace yourself Buenos Aires — one of football's biggest and most bitter rivalries is set to write arguably its most important chapter yet.
Later this month Argentine clubs Boca Juniors and River Plate will face off in the final of the Copa Libertadores — South America's most prestigious club competition — for the first time in history. Games between the two teams are known as Argentina's Superclasico.Follow @cnnsport Both sides advanced from their respective semifinals in dramatic fashion, with Uruguayan referee Andres Cunha needing protection from riot police after controversy in Tuesday's tie.River narrowly edged out defending champion Gremio thanks to a late penalty, awarded by Cunha after a nine-minute VAR consultation.
Riot police protect Uruguayan referee Andres Cunha from Gremio' footballers.The Brazilian club's players were further incensed by Cunha's decision to send off defender Matheus Bressan for the debatable handball which led to the decision.Read MoreGonzalo Martinez stepped up to slot home the penalty nervelessly in front of a partizan 55,000 sellout crowd in Porto Alegre, sending River through on away goals.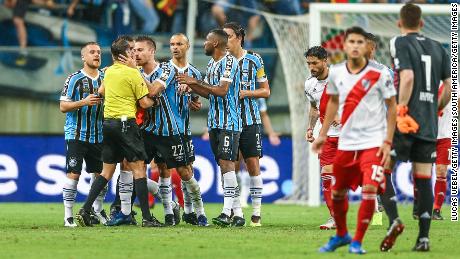 Matheus Bressan confronts referee Andres Cunha after receiving a red card.Wednesday's semifinal was less controversial but no less dramatic, as Boca — defending a 2-0 first-leg lead earned in Buenos Aires — traveled to Sao Paulo to face Palmeiras.Boca took an early lead to seemingly put the tie to bed, but two early second-half goals from the home side turned the game on its head.But prolific striker Dario Benedetto, so often Boca's man for the big occasion, struck low into the bottom corner with unerring accuracy to set up the mostly hotly anticipated tie on the continent.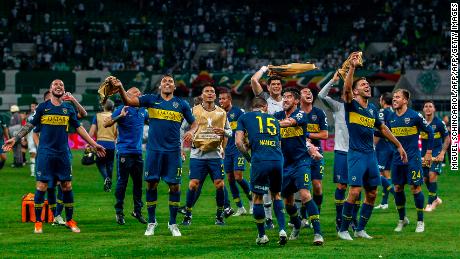 Boca Junior players celebrate after defeating Palmeiras.Bitter rivalsThe fixture has a colorful — and violent — past and has come to be regarded as one of the biggest rivalries in world football.Since the first official match in 1913 — which River won 2-1 — the two clubs have gone on to become the dominant forces in Argentina. Diego Maradona played for Boca in the early 1980s before signing for Spanish club Barcelona.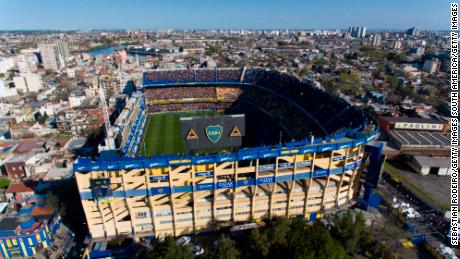 Boca's La Bombonera, the chocolate box, nicknamed for its layers piled on top of one another.The sides have been hard to separate in the 105 years since, with Boca narrowly edging River 88-81 in victories. However River have won 36 national league titles to Boca's 33.What started out as a small local rivalry in the working class La Boca neighborhood of Buenos Aires gradually grew to be the biggest in the country, with River gaining a reputation as the club for the rich and Boca as the working man's team.The darkest hour in River's sporting history came in 2011 when the club was relegated for the first time in its history, something Boca fans will never let them forget.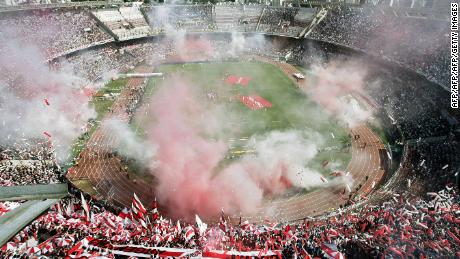 River's El Monumental stadium, the largest in the country.Following the relegation, fans had to wait 530 days for the next Superclasico to which Boca fans brought wreaths to mourn the death of River and sung "that stain will never be erased."Violence has come to mar several clashes in the past — as it has throughout the country's football fixtures — and in 2015 the Superclasico was suspended early after four River players were sprayed with tear gas by a Boca fan as they emerged from the tunnel for the second half.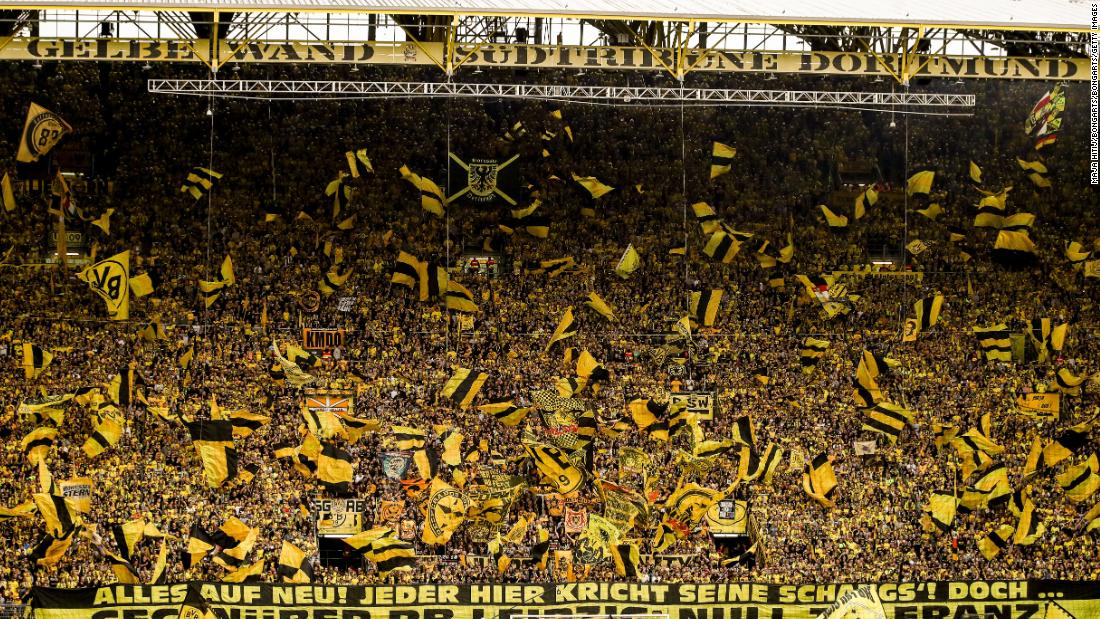 Photos: Best atmospheres in world footballBorussia Dortmund – Borussia's Dortmund's Westfalenstadion Stadium is known for its "Yellow Wall." The south stand is packed full of impassioned fans who together create one of the most spell-binding sights in football. Dressed in the team's yellow and black, supporters create an intimidating atmosphere for the opposition. Hide Caption 1 of 8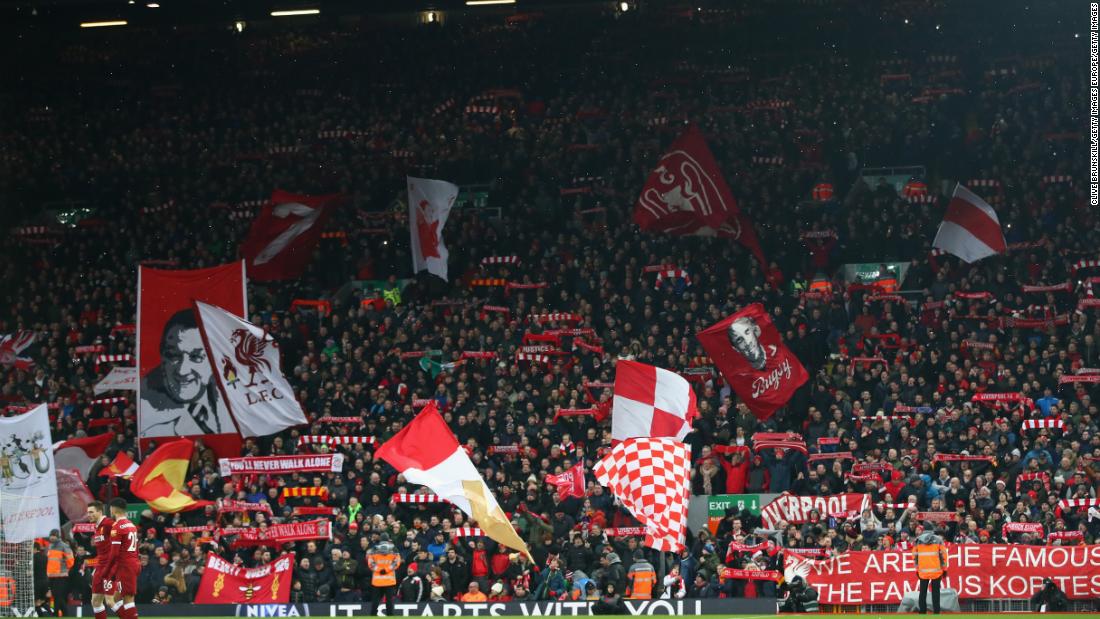 Photos: Best atmospheres in world footballLiverpool – There is something special about Anfield on a European night and the stadium's Spion Kop seems to drag the ball into the goal when Liverpool are attacking that end. Fans also sing the stirring "You'll Never Walk Alone" before every match to create a spine-tingling spectacle. Hide Caption 2 of 8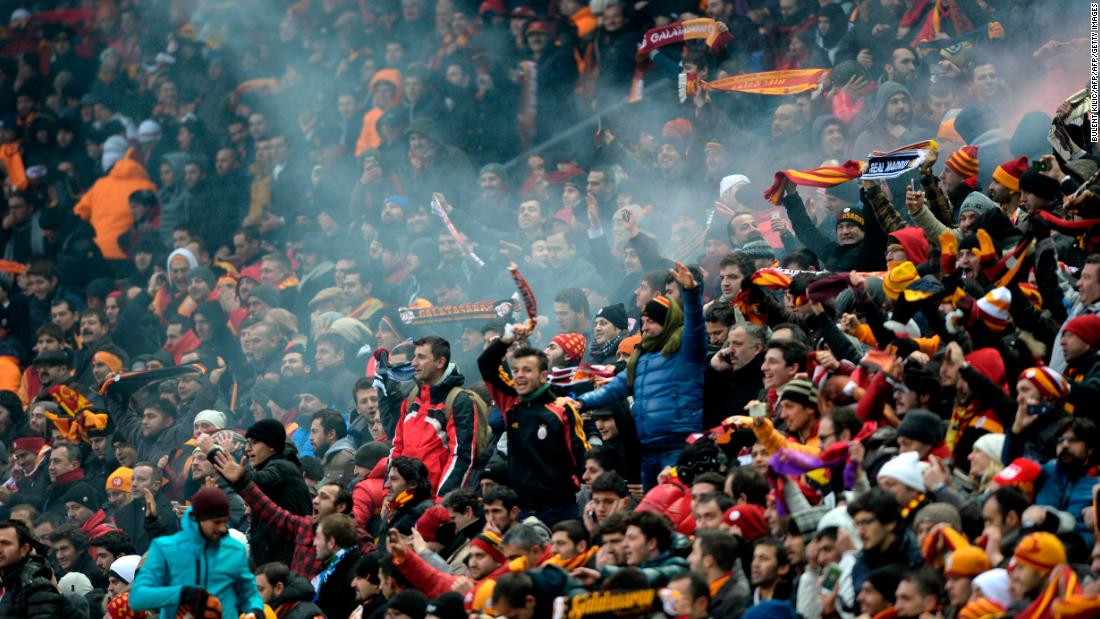 Photos: Best atmospheres in world footballGalatasaray – The Turk Telekom Stadium is home to Turkish giants Galatasaray. The fans here don't just wait for the big games to create an atmosphere. The stadium — which is the second biggest in the country with a capacity of 52,223 — is always awash with flags, scarves and flares.Hide Caption 3 of 8
Photos: Best atmospheres in world footballNapoli – The Stadio San Paolo has one of the most raucous atmospheres in Serie A. Large flags and constant singing are common place in Naples, making this iconic stadium rock during home matches. Hide Caption 4 of 8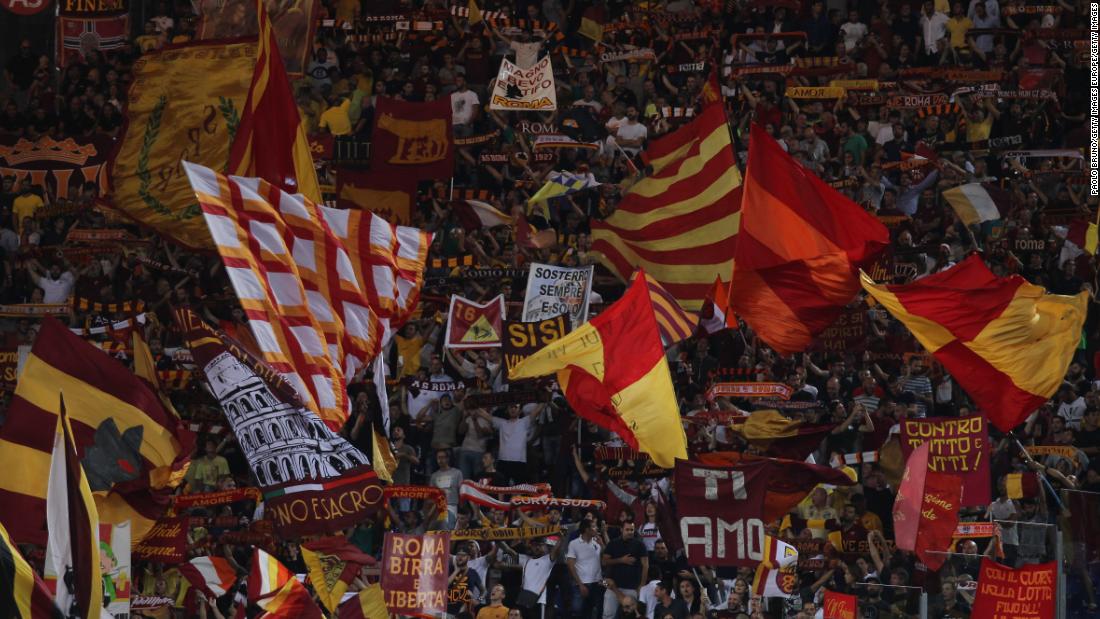 Photos: Best atmospheres in world footballRoma – The Stadio Olimpico in Rome is a gladiatorial like venue. With a capacity of 72,698, the stadium is home to both Roma and Lazio. The fiery atmosphere is magnified by the traditional surroundings which helps produce a caldron of noise. Hide Caption 5 of 8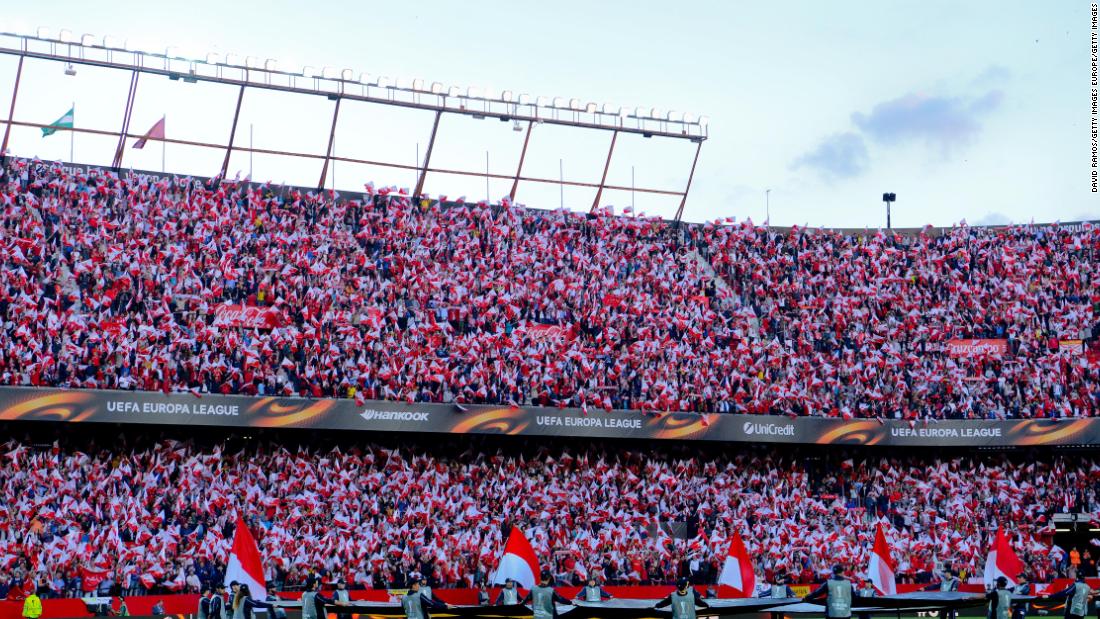 Photos: Best atmospheres in world footballSevilla – With a capacity of 43,883, the Ramon Sanchez Pizjuan cannot compare to the size of some stadiums in La Liga but its atmosphere can. The home fans are a big factor behind Sevilla's impressive home-record. The team went over a year without a loss at home in 2017. Hide Caption 6 of 8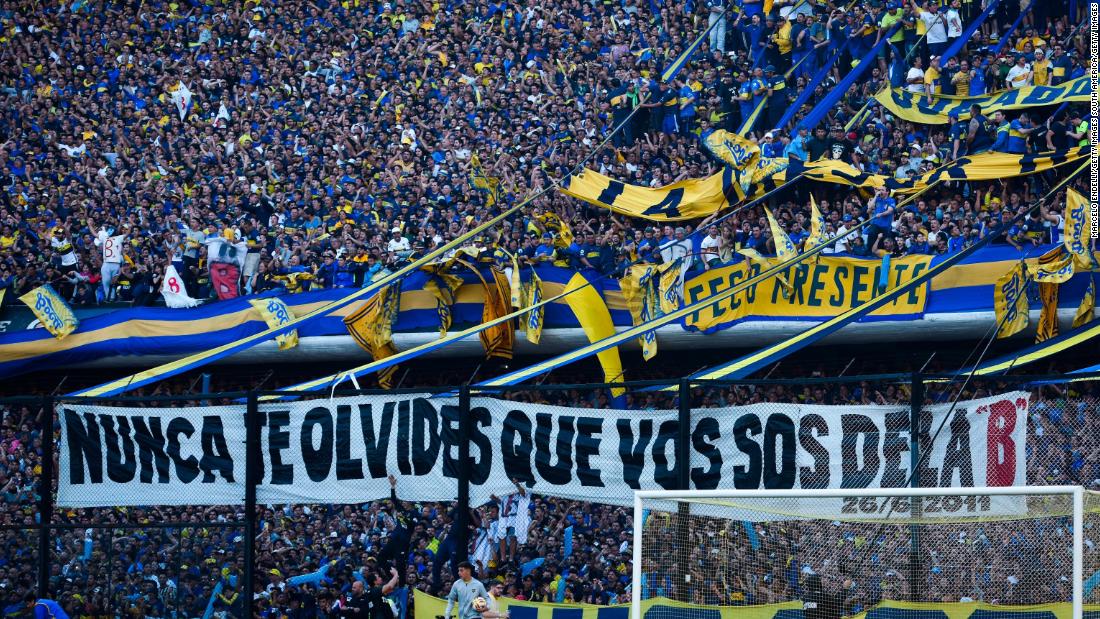 Photos: Best atmospheres in world footballBoca Juniors – La Bombonera is the home to Argentine side Boca Juniors. The fans are at most vocal for the Buenos Aires derby against River Plate where both sets of supporters combine to make a carnival like atmosphere. It may only have capacity of 49,000, but the tight surroundings make for an electric wall of noise. Hide Caption 7 of 8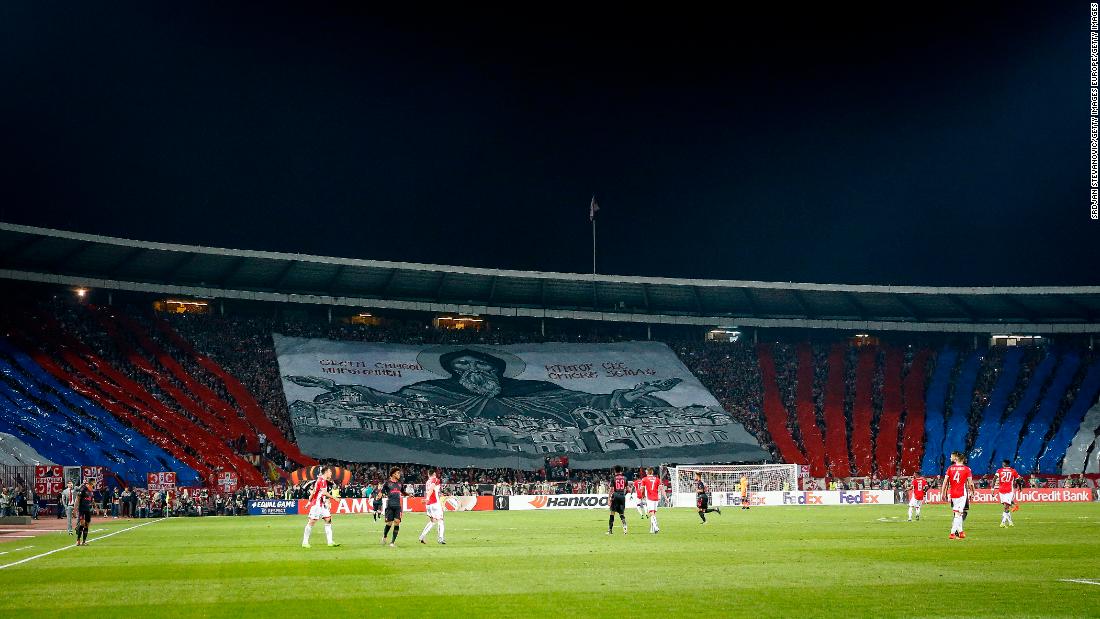 Photos: Best atmospheres in world footballRed Star Belgrade – The Rajko Mitic Stadium in Serbia can be one of the most intimidating places to play football. Fans create huge banners in support of the team and frequently use pyrotechnics to intimidate the opposition.Hide Caption 8 of 8








All four were taken to hospital and River were later awarded the victory and passage through to the Libertadores quarterfinals, eventually going on to win that year's competition.Two years earlier, another fixture at La Bombonera was halted for 15 minutes after riot police were brought in to deal with fighting in the stands.Since 2013, there have been no away fans allowed in stadiums across Argentina after a Lanus fan was shot and killed by a policemen before an away match at Estudiantes.
La Bombonera always provides a stunning backdrop for a Superclasico.The ban has been at least partially overturned for the first time since, with the country introducing a new "Fan ID" system in an attempt to make stadiums safe for away fans again — though none of the "Big Five" — Boca, Independiente, Racing, River and San Lorenzo — will take part.It's rare for two teams from the same country to play each other in the Copa Libertadores final, much less two teams from the same city.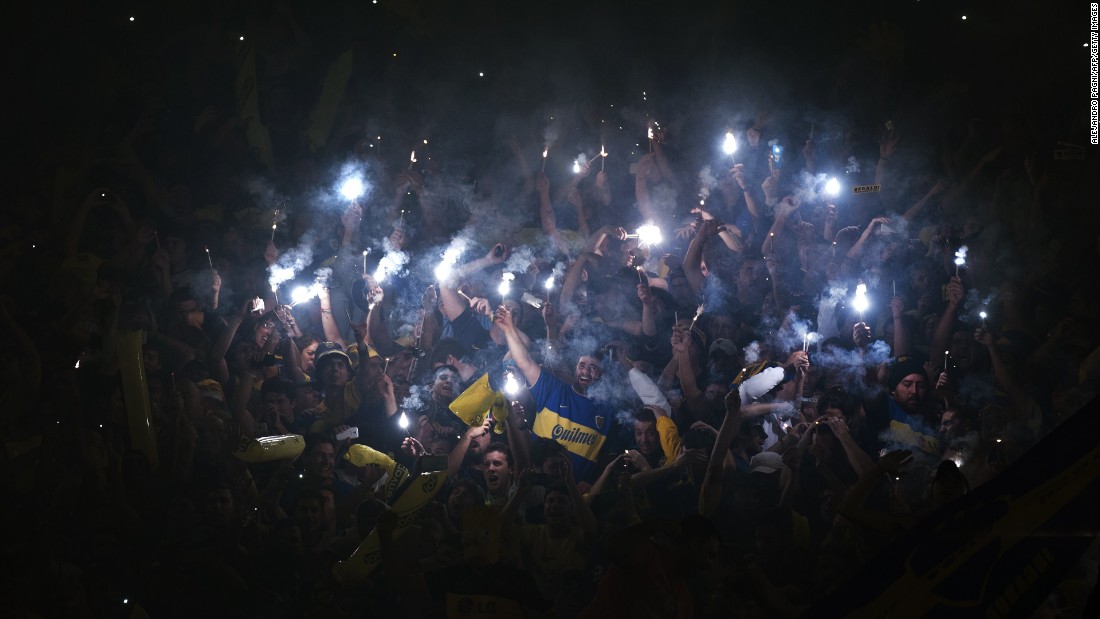 Photos: Fan attacks end Boca Juniors vs. River Plate matchCrowd trouble – The Copa Libertadores round of 16 match between Boca Juniors and River Plate was suspended Thursday after Boca fans sprayed River players with an unknown irritant substance before the start of the second half.Hide Caption 1 of 11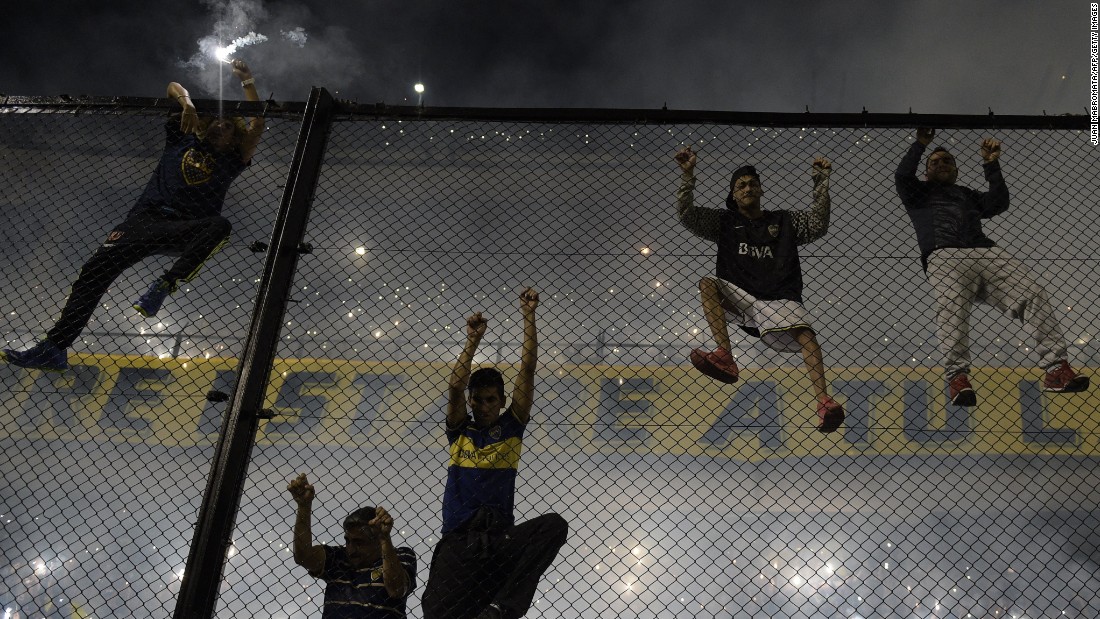 Photos: Fan attacks end Boca Juniors vs. River Plate matchFever pitch – High fences separate the fans from the pitch at Buenos Aires' La Bonbonera stadium, one of the most iconic stadiums in world football.Hide Caption 2 of 11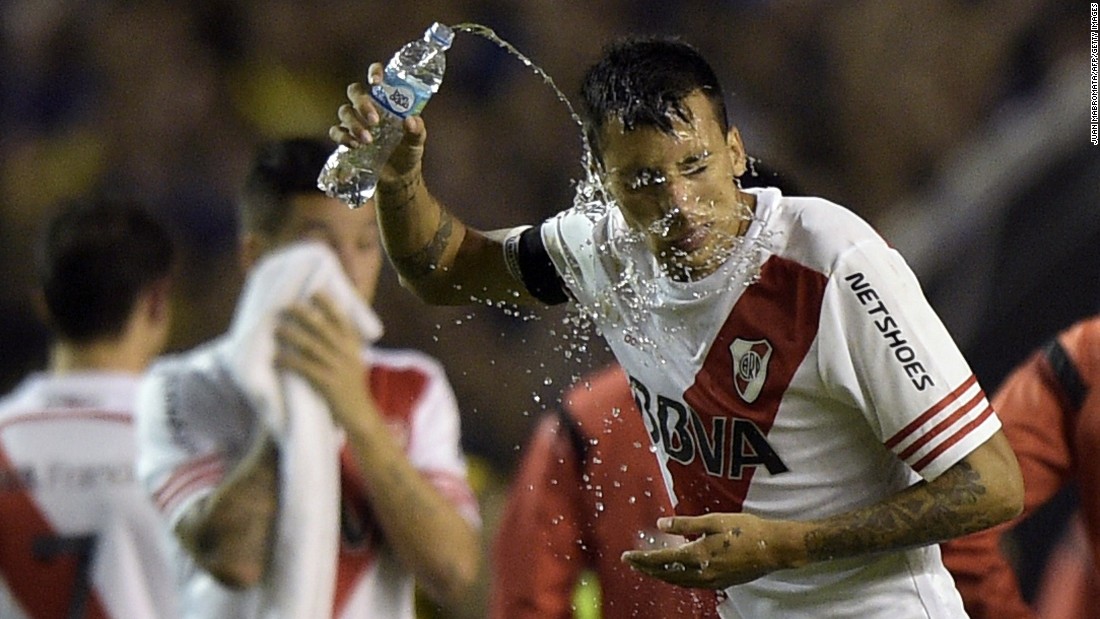 Photos: Fan attacks end Boca Juniors vs. River Plate matchSuperclasico suspension – River defender Leonel Vangioni pours water on his face after being sprayed as he came out for the second half. He was one of four players reportedly taken to hospital for treatment.Hide Caption 3 of 11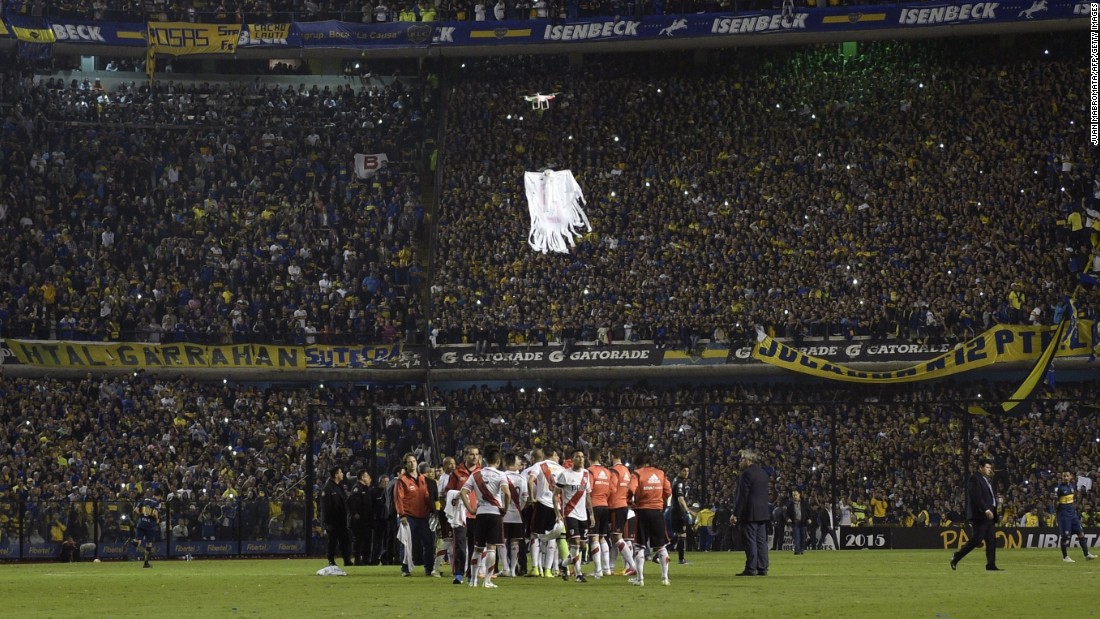 Photos: Fan attacks end Boca Juniors vs. River Plate matchDrone – Prior to the match, Boca's fans flew a drone over the pitch mocking River. The drone related to River's relegation to the second tier of Argentine football in 2011.Hide Caption 4 of 11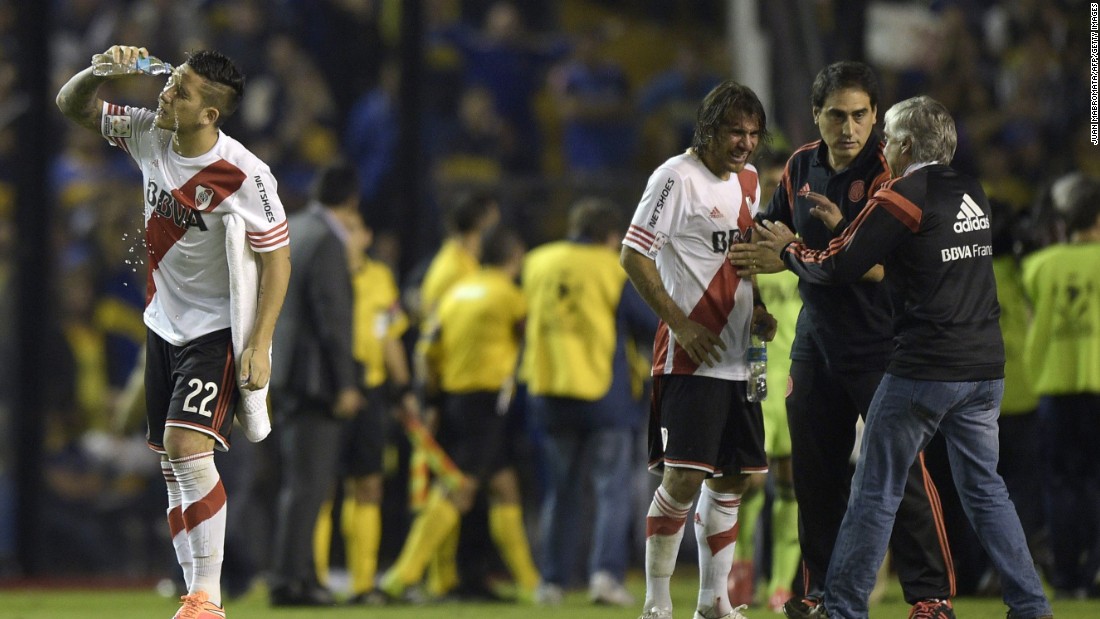 Photos: Fan attacks end Boca Juniors vs. River Plate matchFan attack – Forward Sebastian Driussi tries to rinse his eyes with water after being sprayed in the makeshift tunnel at half time.Hide Caption 5 of 11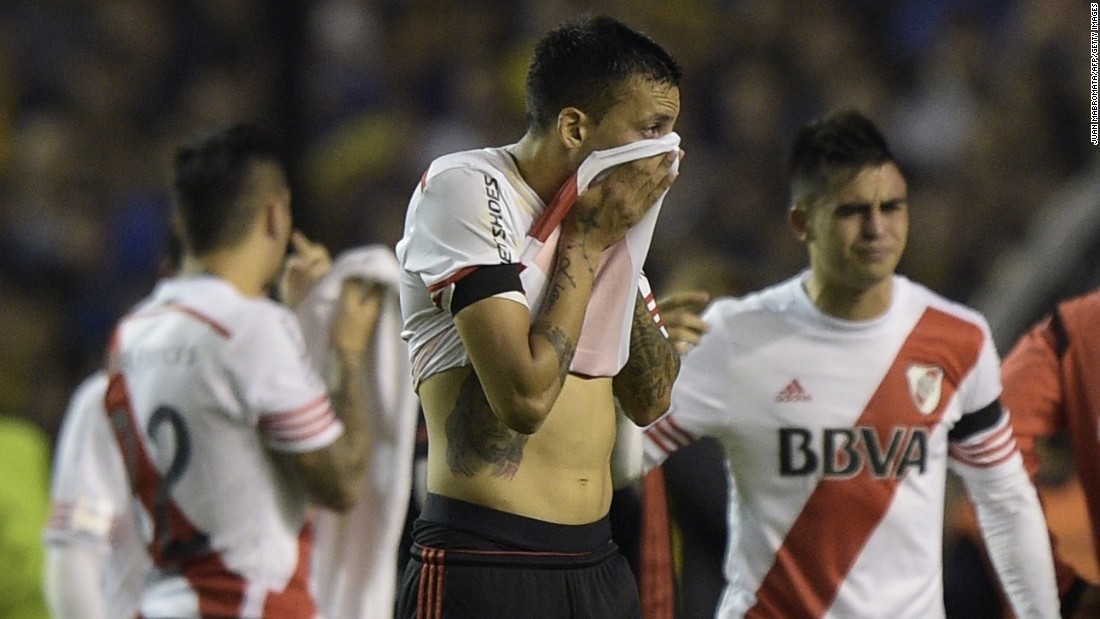 Photos: Fan attacks end Boca Juniors vs. River Plate matchDerby drama – Vangioni tries wiping the spray out of his eyes with his shirt. The players stayed on the pitch for over an hour before the officials eventually decided to suspend the game.Hide Caption 6 of 11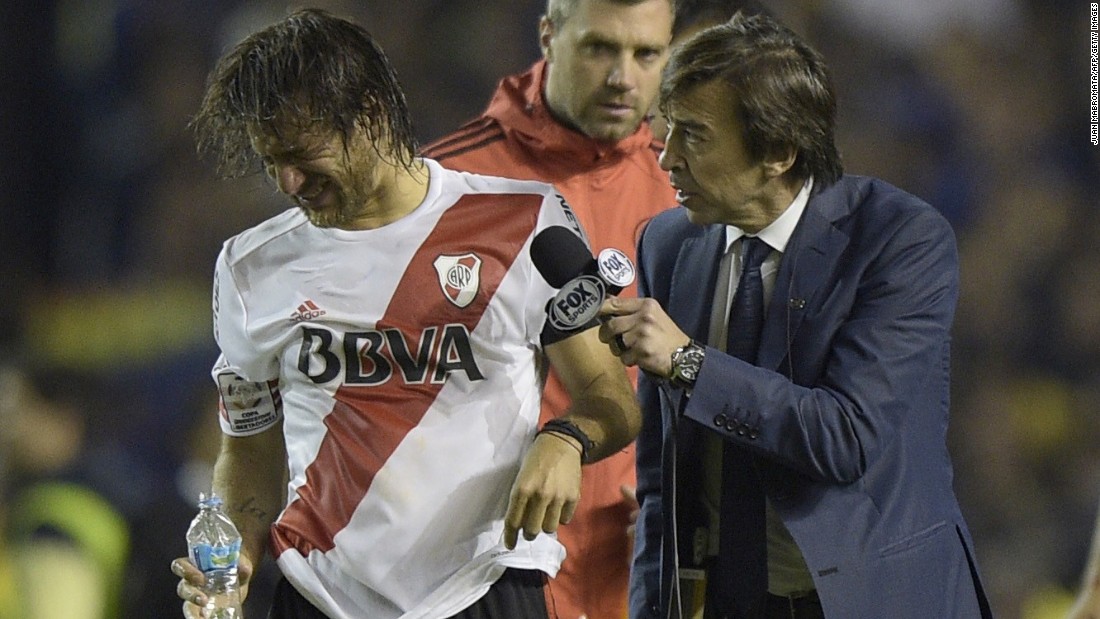 Photos: Fan attacks end Boca Juniors vs. River Plate matchBad timing – Midfielder Leonardo Ponzio was approached by a commentator on the pitch as he tried to wash out his eyes.Hide Caption 7 of 11
Photos: Fan attacks end Boca Juniors vs. River Plate matchCause for concern – CONMEBOL — South America's governing body — are due to meet Friday to discuss what actions will be taken.Hide Caption 8 of 11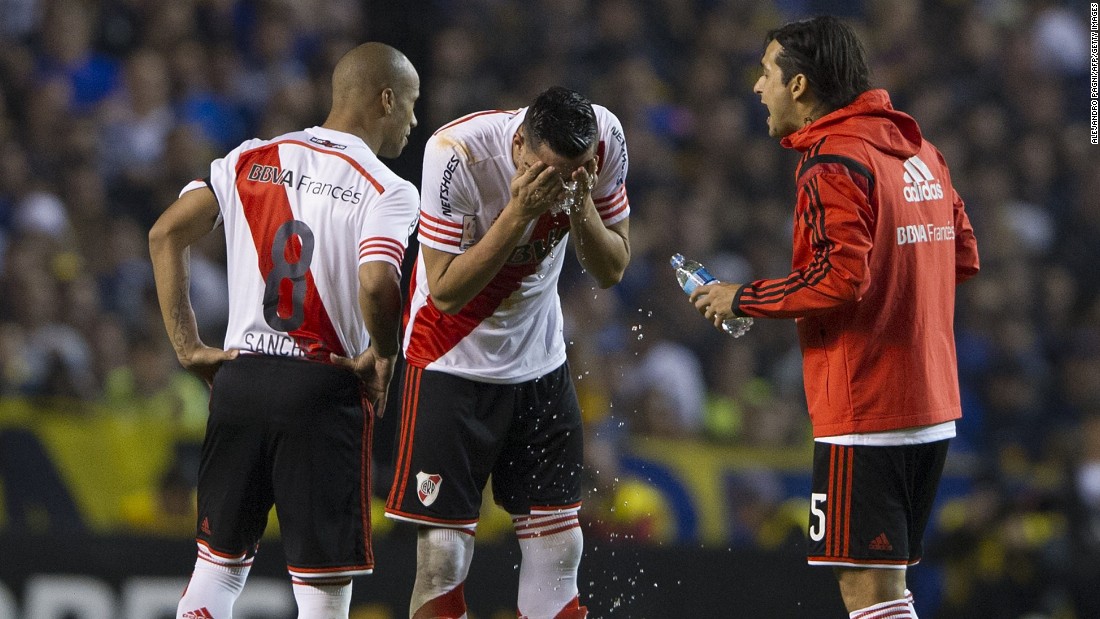 Photos: Fan attacks end Boca Juniors vs. River Plate matchStalemate – River were 1-0 up from the first leg and the match was halted before the second half with the score 0-0.Hide Caption 9 of 11
Photos: Fan attacks end Boca Juniors vs. River Plate matchPolice escort – River players had to leave the pitch under police shields after the match as Boca fans threw objects at them.Hide Caption 10 of 11
Photos: Fan attacks end Boca Juniors vs. River Plate matchSafety fears – River's players ducked for cover as they attempted to leave the field.Hide Caption 11 of 11









Whichever side wins the final, played across two legs in November, will provide the bragging rights for one set of fans for decades to come.
Source Link:
https://www.cnn.com/2018/11/01/football/boca-juniors-river-plate-copa-libertadores-final-spt-intl/index.html
[0.132751]
Comments
comments