Washington (CNN)Former Massachusetts Gov. Bill Weld's numbers against President Donald Trump aren't looking good for him — or any other Republican who decides to challenge the President for the 2020 Republican presidential nomination.
Only 8% of Republicans and Republican-leaning independents said they would definitely support Weld in a matchup against Trump and 10% said they weren't sure but could support him, according to a March poll conducted by Monmouth University. Over half (54%) said they would definitely be supporting Trump, and 2 in 10 also reported they would probably support Trump but consider Weld as an option. With just 8% definite and 30% possible, it's not a good base for the former governor as he starts his official campaign.Weld's biggest support comes from moderate and liberal Republicans and leaners, 16% of whom said they would definitely support him over Trump.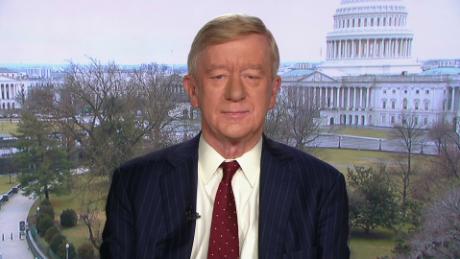 Bill Weld officially announces he is challenging Trump for GOP nomination in 2020Unfortunately for Weld, only 4% of registered Republicans in Iowa, the first primary state to hold a caucus, have a favorable opinion of him, according to the March CNN/Des Moines Register/Medicom poll. Few, however, have an unfavorable opinion of him — 81% said they aren't sure.Read MoreAnd in a University of New Hampshire survey of New England state, one where Weld could be expected to perform better due to its proximity to Massachusetts, only 3% of Republican primary voters said they'd support Weld over former Ohio Gov. John Kasich (17%) or Trump (68%).It's important to remember that Republicans have been pretty strongly behind Trump during his presidency so far. In Gallup's first poll after Attorney General William Barr released a summary about the findings of the recently completed Mueller investigation, Trump's job approval returned to a 45% high — marking the third time the President has reached his high approval. Though his overall rating is historically pretty low, his approval among his own party has stayed high and stable. Almost 9 in 10 Republicans approve of the President, an extremely steady approval, fluctuating between 79% and 90%, Gallup found. For reference, Barack Obama's approval among Democrats fluctuated between 72% and 95%. When asked whether the President should face a challenger from within the Republican Party — Weld wasn't mentioned in the question — three-quarters of Republicans and Republican-leaning independents said they would vote to renominate Trump as the party's candidate in 2020, according to a March CNN poll conducted by SSRS. Around the same percentage said that Trump has a better chance of winning the presidency than another candidate. Trump's renominate number is around the same as Obama's was in a CNN/Time poll from 2010 (76% would renominate), but significantly higher than one for President Bill Clinton in 1994 (57% would renominate) among Democrats and Democratic-leaning voters.
Source Link:
https://www.cnn.com/2019/04/16/politics/bill-weld-donald-trump-polling/index.html
[-0.531185]
Comments
comments