(CNN)In the evening hours of March 20, 1981, cold weather enveloped the city of Mobile, Alabama. The southern port was no stranger to the coolness of spring, but that night, Mobile struggled to climb out of 30-degree temperatures.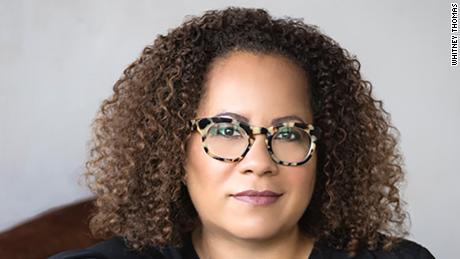 Erica Armstrong DunbarFor those living in housing projects or small and under-insulated homes, the chill was an intruder who always reappeared. It found its way in through poorly caulked windows, unevenly spaced floorboards and front doors that failed their duty as sentinels. The warmth of layered blankets and heavy clothing fought against the intruder, but no matter how long a person held tight to the warmth produced by body heat and bed clothes, sooner, or later, they would have to face the cold.For Beulah Mae Donald, the chill had nothing to do with her interrupted sleep. Her insomnia was triggered by motherhood, a culprit that is often behind sleepless nights — not only because of colicky infants or ornery teenagers, but because motherhood launches the mind in a million different directions. Mothers plan, pray and dream about their children's future. As a mother of seven, Donald undoubtedly dreamed constantly.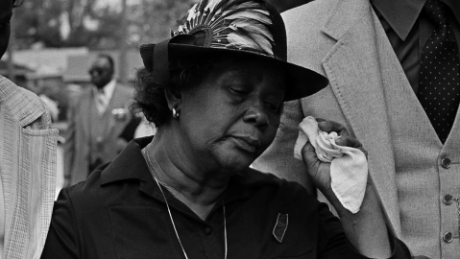 Beulah Mae Donald leaves her son's funeral.But sometimes, those dreams turn into nightmares. Around 2 a.m. on March 21, Donald experienced what she would later call "a vision:" A nightmarish image in her mind's eye of a brown-skinned man in a gray casket. "I couldn't tell who he was," Donald said, but it was frightening enough to shatter her sleep. Perhaps it was a mother's intuition, or a vision from her God, but no matter the reason, Donald knew that something was wrong. Her concern only grew when she noticed that her 19-year-old son, Michael Donald, was not asleep in his bed. Read MoreWhat happened next became a real-time nightmare for Beulah Mae Donald, one that would change the course of her life. It would place her in community with Black mothers, before her time and after, who have similarly faced the unimaginable task of searching for triumph through their trauma. After her vision of the man in a casket, Donald learned that her youngest child would never return home to her — because he had died in the most vicious of ways. Michael Donald was kidnapped and savagely beaten by local members of the Ku Klux Klan. After the Klansmen slit his throat, they hung the teenager from a tree in a residential area — directly across the street from the home of the second highest-ranking Klansman in the state.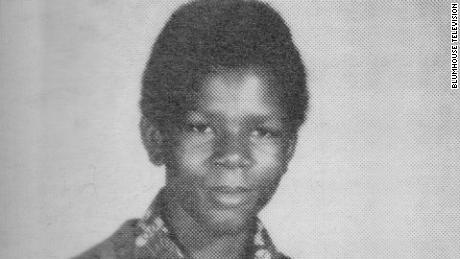 A yearbook photo of Michael Donald.As the murder made national headlines, many across America wondered how something like this could happen. But for Beulah Mae Donald and many other Black Americans, in Alabama and across the nation, this heinous act of violence was yet another expression of White supremacist domestic terrorism that had plagued Black people for centuries. It had only been 18 years since the nightmarish murder of four little girls in a Birmingham church bombing. The racialized violence was far from being history — it was palpable, not only alive in Southern towns but in Northern cities and Midwestern communities. The violence feasted on the ignorance of racism, sustaining itself and growing in size and scope. In response, Beulah Mae Donald would follow in the footsteps of her ancestors; that is, she would mourn the unthinkable loss of her child and somehow manage to dig deeply into her reservoir of strength to survive and seek justice for her son. The Black women before her who toiled in the fields and homes of white Alabamians for centuries knew all too well the pain attached to losing a child. Whether it was to the auction block of the 1840s, or to the noose at the end of a rope, women like Donald shook, screamed and wept, knowing that there would always be a gaping hole in their lives. Somehow, Donald learned to live with that grief, refusing to let it undo her. Perhaps the anger that grief produced fueled her as she prepared for the biggest fight of her life: Donald would take the Ku Klux Klan to court and hold the men who killed her son accountable. One of her son's killers was sentenced to life in prison and the other received the death penalty. And in an almost unbelievable turn of events, Donald also successfully brought a wrongful death lawsuit against the entire United Klans of America, winning a $7 million judgment that left it bankrupt. For Donald, this victory offered closure, but this was far from a typical outcome. For most Black mothers who have lost their children to racialized violence, closure would prove elusive.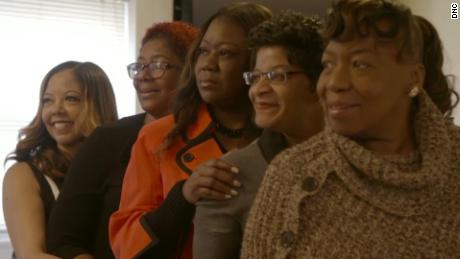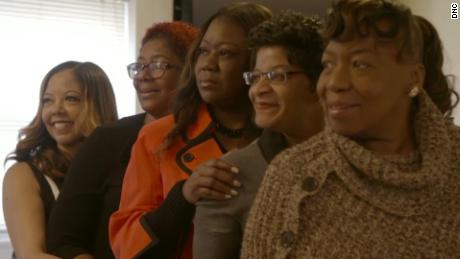 JUST WATCHEDThese grieving Black moms won't let their children's names be forgottenReplayMore Videos …MUST WATCH
These grieving Black moms won't let their children's names be forgotten 03:53As we await the trial of former Minneapolis police officer Derek Chauvin, who is accused of second-degree manslaughter, second-degree unintentional murder and third-degree murder in the death of George Floyd, the nation braces itself for what will certainly be a long and charged trial. Unlike Beulah Mae Donald, George Floyd's mother Larcenia Floyd — affectionately known as Miss Cissy — is no longer living and did not have to endure the grief and fury of watching Chauvin kneel on her son's neck for nearly eight minutes. But there are many other mothers, Black mothers, for whom the death of George Floyd is a reminder of their loss. Sybrina Fulton, Allison Jean, Gwen Carr, Tamika Palmer and Samaria Rice are all recent members of the club to which Beulah Mae Donald unwillingly joined many years ago. This month marks 40 years since the brutal murder of Michael Donald, and it happens to coincide with a month-long recognition of women's history. As we commemorate Michael Donald's life, let us also honor the late Beulah Mae Donald and her model of strength. Perhaps our goal for this Women's History Month should be to highlight all of the Black mothers who have lived a nightmare but still managed to challenge our nation to live up to its promises of democracy and equality.
Source Link:
https://www.cnn.com/2021/03/21/opinions/beulah-mae-donald-people-v-the-klan-dunbar/index.html
Bad Request
Your browser sent a request that this server could not understand.
Size of a request header field exceeds server limit.
Comments
comments