A powerful hailstorm swept through parts of Colorado on Monday, injuring 14 people, killing two zoo animals and damaging hundreds of cars.
The massive storm, which produced baseball-sized hail in some parts, prompted an evacuation at the Cheyenne Mountain Zoo in Colorado Springs as the area was pummeled with chunks of ice.
By the time the storm had passed, the zoo, which remained closed on Tuesday due to the destruction, estimated that nearly 400 cars in its parking lot were severely damaged. Two birds on exhibit died from trauma.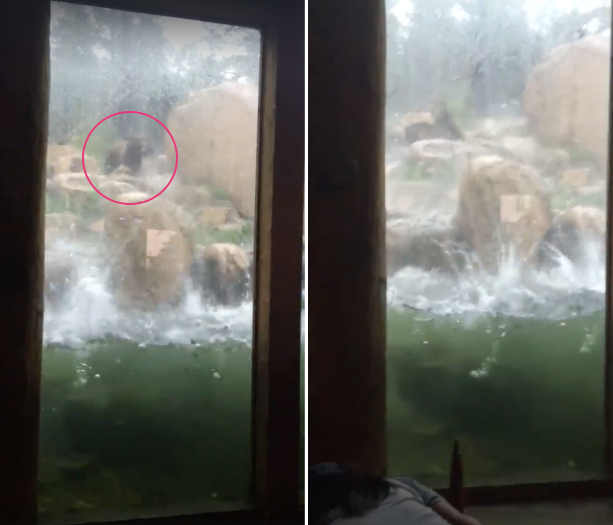 Storyful One of two bears (left) is seen attempting to dodge hail as it pounded the Cheyenne Mountain Zoo in Colorado Springs on Monday.
"One animal was Daisy, a 4-year-old muscovy duck. The other animal was 13-year-old cape vulture, Motswari," the zoo said in a Facebook post.
Dramatic video taken at the park shows at least two bears attempting to dodge the falling ice as the hail bombards their open enclosure and swimming pool.
Colorado Springs police reported that five people were transported from the zoo to hospitals for injuries. Nine others were treated at the scene and released.
"It was crazy. The zoo, when we came out of there, literally it looked like a tornado came through," Danielle Fillis, 47, who was visiting the zoo with her husband, told the Colorado Springs Gazette. Their car was totalled, she said, and their legs were slashed by glass broken by the hail.
"There were trees down, the whole walkway was covered in debris and animals were making a lot of noise," Fillis added.
Brandon Sneide, who said he was a member of Colorado's National Guard who had been deployed to Afghanistan and Iraq, said he saw one woman at the zoo covered in blood.
#cheyennemountainzoo an idea of some of damage to vehicles at the zoo today. pic.twitter.com/fFWHFEjQcG
— CSFD PIO (@CSFDPIO) August 6, 2018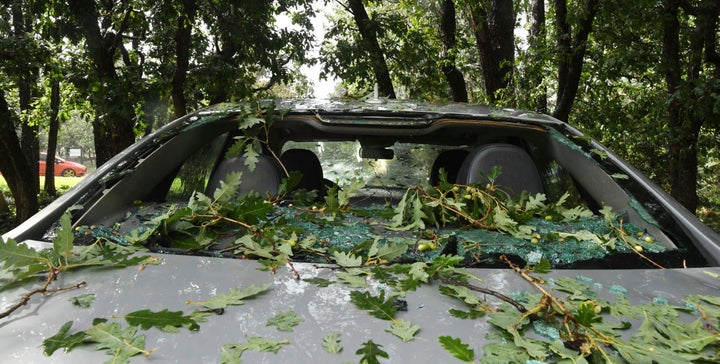 Associated Press The back window of a car that was smashed by hail on Monday in the Broadmoor area of Colorado Springs is seen.
"It was traumatic. It sounded like being in a war zone, like being in Iraq. It was scary," Sneide told the paper.
Hailstorms are not unusual in this part of the country in the summer, according to weather experts.
"Colorado, you get hit all the time with hail, but it was a little bit larger than most hailstorms," Pamela Evenson, a meteorologist with the National Weather Service in Pueblo, Colorado, told HuffPost on Tuesday. "Colorado has one of the highest hail rates in the country, unfortunately."
GOES-16 visible satellite imagery shows the evolution of the severe thunderstorm that produced very large hail across El Paso and Pueblo counties on August 6. #Colorado #cowx pic.twitter.com/tkm6PwLrNq
— NWS Pueblo (@NWSPueblo) August 7, 2018
In June, areas in and around Colorado Springs and Fountain were pounded by another hailstorm that caused an estimated $169 million in insured damages, according to Rocky Mountain Insurance Information Association.
That storm was reported as the worst overnight storm in El Paso County in more than 20 years.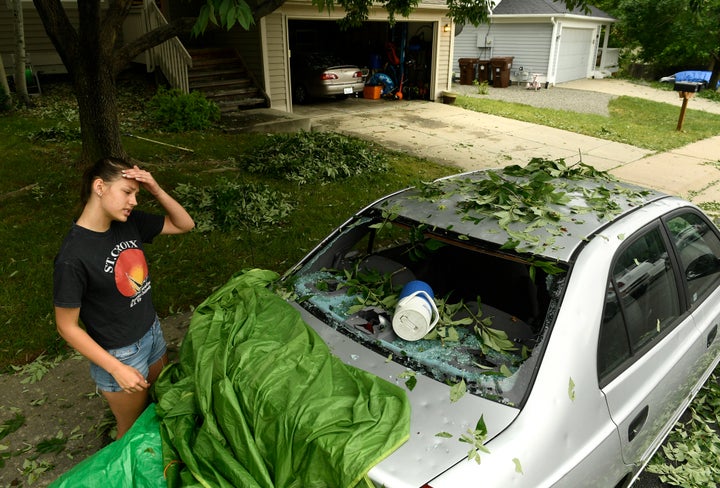 Helen H. Richardson via Getty Images Sara Pilot, left, looks at the hail damage to her father's car outside of her home in Louisville, Colorado, on June 19.
"A bunch of people had already gotten their homes fixed, got new cars after their cars were totaled and then had the same thing happen again," Evenson said of those residents. "It's terrible."
In late June, areas in and around Boulder saw baseball-sized hail that destroyed cars, rooftops and solar panels.
Heavy thunderstorms and possible severe hail were forecast for the area of Boulder again on Tuesday. Pueblo was also forecast to see thunderstorms and potential flash floods, according to the National Weather Service.
RELATED… Hurricane Hector Plows Toward Hawaii As Category 4 Storm California's Mendocino Wildfire Becomes The Largest In State History California Looks To Reshape Its Wildfire Strategy As State Burns Download
Source Link:
https://www.huffingtonpost.com/entry/hail-zoo-colorado_us_5b69a10ae4b0de86f4a552d3
[-0.514436]
Comments
comments