(CNN)It's a wrenching scene that plays out every time a natural disaster strikes. Thousands of people are homeless and searching for refuge, and many of them end up on America's doorstep.
The reality of the devastation Hurricane Dorian left behind when it pounded the Bahamas is becoming increasingly clear. But details of the US response to the disaster are still taking shape.US rescue teams have been searching for survivors across the islands. And many Bahamas residents have fled to the United States since the storm hit. But some Bahamians boarding a ferry boat for Florida over the weekend heard what critics called a cruel message: If you don't have a valid visa, you have to turn back. US Customs and Border Protection officials said that announcement came because the ferry's operator didn't properly coordinate the evacuation with the US and Bahamian governments.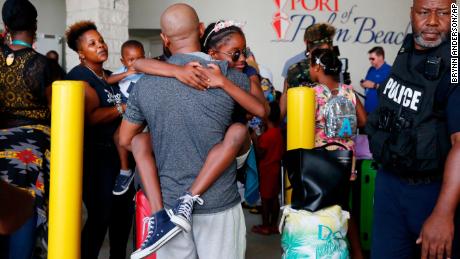 Mark Winder of Tampa, Florida, embraces his niece, Gabriella Winder, 10, as she and her family arrive in Riviera Beach, Florida, from the Bahamas on Saturday, September 7. "There's some confusion there," acting CBP chief Mark Morgan said Monday. "We will accept anyone on humanitarian reasons that needs to come here. We're going to process them expeditedly."Read MoreAsked outside the White House on Monday whether he was prepared to offer temporary protections to Bahamas residents, President Donald Trump said the matter was under discussion. But he stressed that anyone coming to the United States from the Bahamas needs "proper documentation." "We have to be very careful," he said. This much is clear: The situation on the ground in the Bahamas remains chaotic, and tens of thousands of people need help. Here's a look at how the US government has responded to migrants fleeing countries where disaster struck in recent years, and what could happen next.Migrants from Haiti and El Salvador were protected in the US after disastersIn the past, the US government has stepped up the protections it offers migrants after natural disasters hit."If the government wants to help people to come for short stays as a reprieve, it certainly has the authority to do that," said Muzaffar Chishti, director of the Migration Policy Institute's New York office.Whether the US government will offer more protections for the Bahamas, where Dorian left an estimated 70,000 people homeless, remains to be seen, Chishti said."Fearing the numbers may be large and overwhelming," he said, "they may choose not to do that."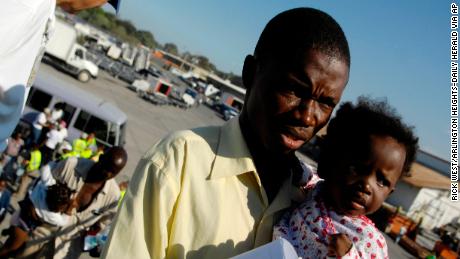 Unidentified evacuees board a relief flight to Chicago from earthquake-ravaged Port-au-Prince, Haiti, in January 2010. One example in recent memory shows one way the United States could respond to this disaster. The 7.0-magnitude earthquake that hit Haiti in January 2010 killed hundreds of thousands of people and displaced 1.5 million more. On January 21, 2010, nine days after the temblor struck, the US government designated Haiti for what's known as temporary protected status, or TPS — allowing Haitians who'd been in the United States since the quake hit to remain, given the "size of the destruction and humanitarian challenges" facing the country."That was a very quick reaction in recognition of what had happened in Haiti, and it did help a lot of people," Chishti said.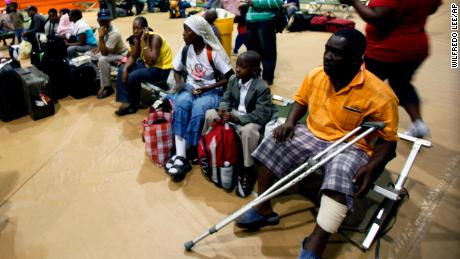 A group of evacuees from Haiti wait for transportation as they clear customs at Homestead Air Reserve Base, Florida, in January 2010.Congress created TPS in 1990. It's a form of humanitarian relief for people who would face extreme hardship if forced to return to homelands devastated by armed conflict or natural disasters. In the United States, more than 400,000 people from 10 countries currently have TPS, according to the Congressional Research Service, but the Trump administration has been trying to end these protections for many of them. After a series of devastating earthquakes hit El Salvador in 2001, then-Attorney General John Ashcroft granted TPS to residents of the Central America country. And more recently, Nepal was designated for TPS in 2015 after an earthquake killed more than 8,000 people there. Officials also designated Honduras and Nicaragua for TPS in the late 1990s after Hurricane Mitch.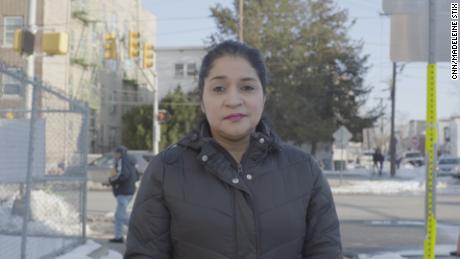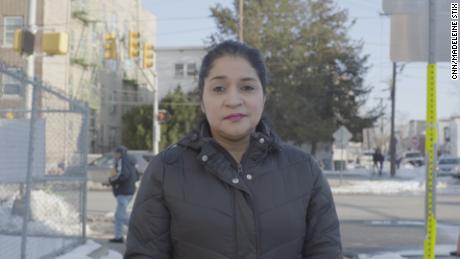 JUST WATCHEDMother: 'I have nightmares about going back'ReplayMore Videos …MUST WATCH
Mother: 'I have nightmares about going back' 01:40Since President Trump took office, his administration has tried to strip deportation protections from hundreds of thousands of people from these countries who were granted TPS. So far, courts have blocked those efforts. But the cases are still pending, and how long such protections will last is anything but certain. Trump says everyone needs 'proper documentation'In a letter last week, Sens. Marco Rubio and Rick Scott of Florida asked Trump to suspend certain visa requirements for Bahamians who have relatives in the United States. By Monday, Rubio said storm survivors were already being evacuated to the United States without being required to show visas after coordinating with authorities. And Morgan, the acting CBP chief, said humanitarian cases of people evacuating from the Bahamas were being processed, excluding those with long criminal histories who've been previously denied entry to the United States.But Trump sounded less than enthused when asked whether he was prepared to offer TPS to people from the Bahamas."We're talking to a lot of different people on that," the President said, noting that parts of the United States are also recovering from the hurricane, even though damage was not as bad as feared."We have to be very careful. Everybody needs totally proper documentation, because, look, the Bahamas had some tremendous problems with people going to the Bahamas that weren't supposed to be there," he said. "I don't want to allow people that weren't supposed to be in the Bahamas to go to the United States, including some very bad people and some very bad gang members and some very very bad drug dealers. So we are going to be very very strong on that." Trump didn't provide further details. Officials in the Bahamas have cracked down on illegal immigration in recent years.Undocumented Haitian immigrants lived in some of the areas that were hardest hit by the storm.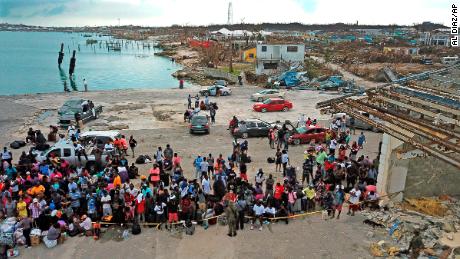 Evacuees gather at Marsh Harbour Port in Abaco, Bahamas, on Friday, September 6.For Bahamians, several options could be on the tableChishti said the US government could be weighing a range of different options as the number of residents trying to leave the Bahamas grows. Among them: • TPS – As it has with other countries in the past, the United States could designate the Bahamas for TPS. But Chishti notes there are limitations to such protections. TPS, he said, "applies only to people who are already in the United States."• Humanitarian parole – For people who aren't already in the United States and are fleeing the storm's devastation, but don't have valid visas to enter the country, the Department of Homeland Security could encourage officers to grant what's known as humanitarian parole, Chishti said. "There would have to be a guidance issued by the DHS that we are authorizing issuing of a parole for this group of people and in these circumstances," he said.• Regional response – It's possible the United States will argue it's not the only country that should be responsible for helping displaced people in the Bahamas. "The US could, I think, argue that this is not just the US's responsibility," Chishti said, "that this is a real disaster that requires a cohesive, regional response."
Source Link:
https://www.cnn.com/2019/09/09/us/bahamas-disaster-evacuations-immigration/index.html
[-0.509755]
Comments
comments