A version of this story appeared in the April 1 edition of CNN's Coronavirus: Fact vs. Fiction newsletter. Sign up here to receive the need-to-know headlines every weekday.
(CNN)The number of stillborn babies and women who have died during pregnancy increased by nearly a third during the pandemic, a review of 40 studies that covered 17 countries has found.
Many of the deaths were avoidable and likely caused by a lack of access to medical care, according to the authors of the study, which was published in the medical journal The Lancet.The findings, however horrifying, shouldn't come as a surprise.Public health experts have warned about the pandemic having a disproportionate impact on women and their health from the outset.They knew the risk because this has happened before — previous epidemics of Ebola and Zika caused major setbacks for women and girls in the regions most affected by the outbreaks. Studies have shown that the number of stillbirths and maternal deaths increased in some countries hit by Ebola, because women were unable to access the appropriate services.Read MoreIn the review, researchers from St. George's, University of London said hospitals were overburdened with coronavirus patients, and some women may have been reluctant to go to the doctor, concerned they'd be exposed to Covid-19. The study also found a nearly sixfold increase in ectopic pregnancies — when the fertilized egg grows outside a woman's uterus, the review found. Untreated, ectopic pregnancies can cause life-threatening bleeding. The higher risk of maternal mortality is just one of the many ways the pandemic has affected women. The World Economic Forum said this week that the global gender gap has widened because of Covid-19 and that it will now take 36 years longer — 136 years in total — to close it.Studies and surveys have shown that women were more likely to skip health care services, more likely to lose their jobs, more likely to suffer domestic violence and more likely to face financial hardship as a result of the pandemic. YOU ASKED. WE ANSWERED. Q. How does Covid-19 compare to other causes of death? A: Covid-19 was the third leading cause of death in the United States last year, after heart disease and cancer, according to provisional data released on Wednesday by the US Centers for Disease Control and Prevention (CDC). The death rate from 2019 to 2020 increased by 15.9%, going up from 715.2 to 828.7 deaths per 100,000 people, according to the report. The early data showed that the top five leading causes of death in 2020 were: Heart disease Cancer Covid-19 Unintentional injury StrokeSend your questions here. Are you a health care worker fighting Covid-19? Message us on WhatsApp about the challenges you're facing: +1 347-322-0415.WHAT'S IMPORTANT TODAY The UK variant may already be dominant in the USThe new, more contagious variant of coronavirus is likely partially driving the latest Covid-19 surge in the United States. The CDC reported more than 11,500 cases of the B.1.1.7 variant — but the agency has said the number is likely larger. The highest B.1.1.7 case counts are in Florida, which has welcomed crowds of spring-breakers, followed by Michigan, where officials say another surge is well on its way. The vaccines that are being administered across the US appear to protect people well against the B.1.1.7 variant. But only 16.4% of Americans have been fully vaccinated and a big part of the population remains vulnerable to the virus — which is why the White House senior Covid-19 response adviser Andy Slavitt urged governors, mayors and local leaders to listen to President Joe Biden and maintain or reinstate mask mandates to "save lives." Nonetheless Georgia Governor Brian Kemp announced the rollback of many of the state's Covid-19 restrictions while Arkansas dropped its mask mandate. Inside Cuba's race to vaccine sovereignty The sign on the door was written by hand and the lights were off to save electricity, but inside the clinic Cuban doctors were administering what they say is a cutting-edge vaccine against the coronavirus. Despite a worsening economy and increased US sanctions, the communist-run island has pulled off a feat no other Latin American country can claim: the development of five Covid-19 vaccine candidates, two of which are in their final Phase 3 trials. As the number of coronavirus cases on the island continues to rise, its vaccine candidates and the island's aspirations to be a biomedical powerhouse will be put to the test. On Wednesday, Cuba hit a new record in Covid-19 infections — 1,051 new cases diagnosed in 24 hours. Quality issue at a plant delays some of J&J's vaccine Drugmaker Johnson & Johnson said yesterday it had found a quality problem at a Baltimore plant helping manufacture its single-dose coronavirus vaccine under contract. The New York Times reported that workers at Emergent BioSolutions, the plant that has been making the vaccine, accidentally mixed up some of the ingredients, ruining as many as 15 million potential doses and delaying US Food and Drug Administration authorization of the plant. Johnson & Johnson said that none of the lost doses affects the company's goal of delivering 20 million Covid-19 vaccine doses in March. Those doses come from J&J's Janssen vaccine plant in the Netherlands. ON OUR RADAR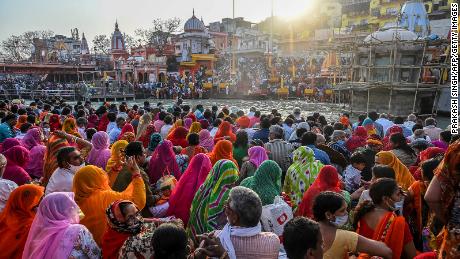 Hindu devotees gather for evening prayers during the ongoing religious Kumbh Mela festival in Haridwar.Massive crowds of Hindus are arriving in the northern Indian city of Haridwar for the largest religious pilgrimage on Earth — even as the country grapples with a second wave. French President Emmanuel Macron announced tougher national coronavirus restrictions starting Saturday. The rollout of vaccines in Europe is "unacceptably slow" amid a "worrying" surge in infections, the World Health Organization said. Russia has registered the world's first Covid-19 vaccine for animals. Hungary has recorded its deadliest day of the pandemic, despite its leading vaccine rollout. Two US counties will get free, rapid, at-home Covid-19 tests in an effort to study how people use them and how that impacts Covid-19 trends in the community. A court in Vietnam handed a two-year suspended jail term to a flight attendant who was found guilty of breaking Covid-19 quarantine rules and spreading the virus to others.Peru's new total lockdown starts today. It includes a 24-hour curfew, a ban on the use of private vehicles, and only one person per household being allowed to leave home for essential shopping. Italy has made coronavirus vaccines mandatory for health care workers. TODAY'S TOP TIPSThe American Red Cross needs blood right now. Despite the country slowly opening up, the demand for donations has remained high. Here is how to donate. TODAY'S PODCAST "These guys are getting tested multiple times a week regardless of the symptoms. It's very valuable information that can help drive public health policy from this program." — Daniel Eichner, president of the Sports Medicine Research and Testing LaboratoryBaseball's Opening Day is finally here, and Major League Baseball has stepped up to the plate with new safety precautions for the pandemic. CNN Chief Medical Correspondent Dr. Sanjay Gupta speaks to sports medicine researcher Daniel Eichner about the new protocols. Listen now.
Source Link:
https://www.cnn.com/2021/04/01/world/coronavirus-newsletter-intl-04-01-21/index.html
Bad Request
Your browser sent a request that this server could not understand.
Size of a request header field exceeds server limit.
Comments
comments