(CNN)Seven South Korean tourists have died and 19 are unaccounted for after a boat tour operating on the Danube collided with another vessel, according to South Korean Ministry of Foreign Affairs.
"Among 33 South Koreans, 7 have been rescued, a rescue operation for 19 missing is underway and 7 are confirmed dead," the statement from South Korea's Ministry of Foreign Affairs read.The South Korean Embassy in Hungary has sent an on-site response team to assess the situation. A spokesman for the tour operator said 34 people were on board, including the crew. Hungarian authorities confirmed that officers from Budapest Police headquarters, as well as disaster management and rescue service personnel, are handling the rescue operation. Read MoreAuthorities have not confirmed how many passengers are missing. The Mermaid, a ship from Panorama Deck's tourist fleet operating on the Danube, sunk shortly before 10 p.m. Wednesday, Panorama Deck spokesman Mihaly Toth told CNN. Emergency services are attempting to rescue as many people as possible, but the water level is high, and for that reason "the Danube is very strong," he said.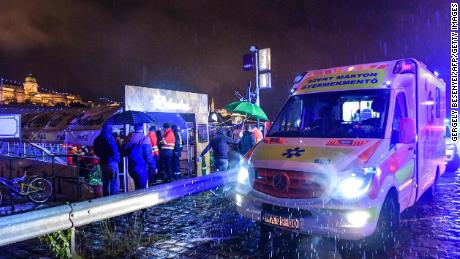 Rescue workers gather at the bank of the Danube River in downtown Budapest.Heavy rain is also impeding emergency responders' efforts to search the water's surface. There were "no signs of a possible issue with the boat," the spokesman said. Panorama Deck "ensures all the necessary technical maintenance is carried out every year" on their fleet, he added."We cannot confirm why the boat sank — it was just an average day, and this was a regular trip. We carry out thousands of tourist boat trips every day, there were no signs that something like this could happen," the spokesman said. According to Toth, the Mermaid ship has been in operation since 2003.
Source Link:
https://www.cnn.com/2019/05/29/europe/hungary-sightseeing-boat-sinks-on-danube-river/index.html
[-0.362753]
Comments
comments