An arrest has been made in the stabbing death of a 15-year-old boy who was brutally attacked on a New York City street last week in a case of suspected mistaken identity.
Kevin J. Alvarez, 19, was taken into custody Saturday and charged with second-degree murder, manslaughter, gang assault and assault in Lesandro "Junior" Guzman-Feliz's death on Wednesday, authorities said.
A search is ongoing for several other suspects in Guzman-Feliz's death. The New York Times reported Sunday that the New York Police Department mistakenly announced more arrests in the case. PIX11, citing a law enforcement source, reported that four suspects were taken into custody in Paterson, New Jersey, on Sunday.
The stabbing murder of this young man is among the most brutal crimes I've seen in my 36yr career. @NYPDDetectives are working hard to capture these killers, but we also need your help. Watch this video and call #800577TIPS with any information you can provide. #JUSTICEFORJUNIOR pic.twitter.com/h6QxmGtEsx
— Chief Terence Monahan (@NYPDChiefofDept) June 23, 2018
Guzman-Feliz was recorded in the city's Bronx borough being dragged out of a bodega by several men and repeatedly stabbed on the sidewalk with a machete. One video captured him bleeding on the ground as witnesses scrambled to help.
Police Chief Terence Monahan in a Twitter post on Friday described the teenager's death as "among the most brutal crimes I've seen in my 36yr career."
Guzman-Feliz's family, speaking to The New York Post, said members of a street gang apologized to them for the attack, saying they got the wrong person. Police sources confirmed that possible mistake to the Post.
"I know it doesn't mean a lot. It wasn't supposed to be him," read a message allegedly sent by a "top leader" in the gang to the family, according to 19-year-old Derek Grullon, who is the boyfriend of Guzman-Feliz's sister.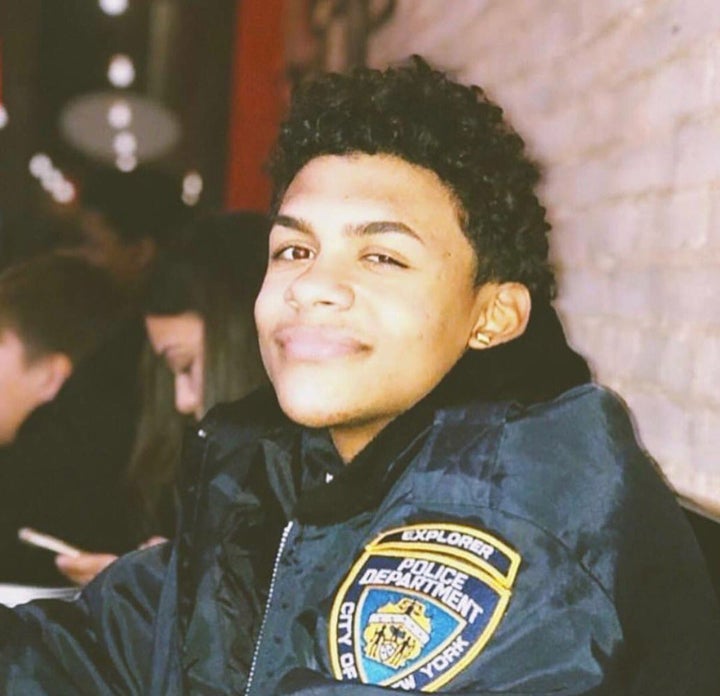 NYPD Lesandro "Junior" Guzman-Feliz, 15, was fatally stabbed on a sidewalk in New York City. He aspired to be a police officer one day, his family said.
Guzman-Feliz's mother, Leandra Feliz, told The New York Times that her son was attacked after stepping outside to lend a friend $5. She said he aspired to be a police officer one day.
"His dream was to be a detective," she told the paper. "Since he was 5 years old, he used to love to play with the police toy cars and always said he wanted to be a detective."
A photo of Guzman-Feliz shared by the NYPD shows him wearing a jacket for the force's Explorer program, which introduces city 14-to-20-year-olds to careers in law enforcement.
In the Bronx on 6/20, 15-yr-old Junior Guzman-Feliz was fatally stabbed by the men in the photo (on right). He was never going to give up on his dream of being an NYPD detective & WE'LL NEVER GIVE UP ON HIM. Help us get #JusticeForJunior You can anonymously call 800-577-TIPS. pic.twitter.com/0gVAMfmC7f
— Chief Dermot F. Shea (@NYPDDetectives) June 23, 2018
News of Guzman-Feliz's violent death has garnered attention nationwide, fueling the hashtag #JusticeforJunior.
Rapper Cardi B, who grew up in the Bronx, made an $8,000 donation to a GoFundMe page for Guzman-Feliz's family on Sunday under her legal name, Belcalis Almanzar. In an Instagram post she called the Bronx streets "ruthless."
Singer Rihanna also shared her heartbreak over his death, posting on Instagram on Sunday, "Can't stop thinking about this poor baby boy, and how his family must feel right now! I'm sincerely praying for your healing and #justiceforjunior."
New York Yankees pitcher CC Sabathia also expressed his grief over Guzman-Feliz's death and shared a photo of the teen wearing a Yankees jersey on Twitter.
"I'm a father of four and couldn't imagine losing any one of my own kids," Sabathia tweeted. "The violence and hate needs to stop. There's too much other stuff already going on in this world."
It hurts me every time I see a story like this in the news. I'm a father of four and couldn't imagine losing any one of my own kids. The violence and hate needs to stop. There's too much other stuff already going on in this world. #JusticeForJunior pic.twitter.com/OdMv9Vs1Uu
— CC Sabathia (@CC_Sabathia) June 23, 2018
The GoFundMe page raised more than $156,000 as of Monday morning.
Authorities are asking for help from the public with identifying suspects captured on video in the assault. They were seen entering a white vehicle and a dark-colored sedan, police said.
Anyone with information is asked to call the NYPD's Crime Stoppers hotline at 1-800-577-TIPS (8477) or, for Spanish, 1-888-57-PISTA (74782). The public can also submit tips by logging onto the Crime Stoppers website at www.nypdcrimestoppers.com or by texting tips to 274637 (CRIMES), then entering TIP577.
The NYPD and the Paterson Police Department did not immediately respond to requests for comment on reports of additional arrests made.
Source Link:
https://www.huffingtonpost.com/entry/arrest-lesandro-guzman-feliz-stabbing-death_us_5b30dfd8e4b0040e2745543f
[-0.646538]
Comments
comments