A version of this story appeared in CNN's Pop Life Chronicles newsletter. To get it in your inbox, sign up for free here. Tell us what you'd like to see more of in the newsletter at [email protected].
(CNN)Dear 2021, you are just zipping along, aren't you?
Blink and it's almost June, which will mark the halfway point of yet another unusual year. With warming weather and relaxed pandemic restrictions, plenty of us want to get out and about.But you have to come home sometime, right?When you do, I've got some suggestions for you right here. Read MoreThree things to watch 'Army of the Dead'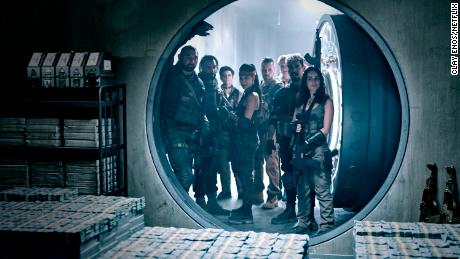 The cast of "Army of the Dead" are shown. Zack Snyder and zombies. If that intrigues you, this Netflix film starring Dave Bautista, Omari Hardwick and Tig Notaro is for you.More from Pop Life Chronicles
'Money, Explained' and more of what you need this weekendReady to head to the movie theater? Here's what to see this weekendReturn of 'The Handmaid's Tale'
The plot involves a zombie outbreak in Las Vegas. A group of mercenaries takes the ultimate gamble by venturing into the quarantine zone to try and pull off the greatest heist ever.When I first heard about it, I thought, "OK. 'Oceans Eleven' with the undead. Got it!"The movie is already in theaters and out on Netflix Friday.'Broken Harts'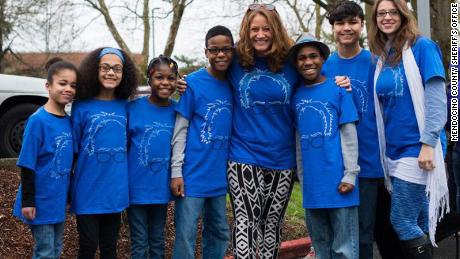 The bodies of Jennifer and Sarah Hart and three of their kids were initially found in and around their crashed vehicle in 2018. (From left) Hannah, Abigail, Sierra, Jeremiah, Jennifer, Devonte, Markis, and Sarah Hart are shown.Jennifer and Sarah Hart seemed to have the perfect family.The two White women, who adopted six Black children, promoted a core mission of activism, travel and community service, which won them the admiration of their community and social media followers around the world. But after their SUV plunged over a cliff along the Pacific coast, a tragic story emerged. This documentary peels back the layers of the family life the women hid that ultimately led to all of their deaths.It's currently streaming on Discovery+.'Master of None' Season 3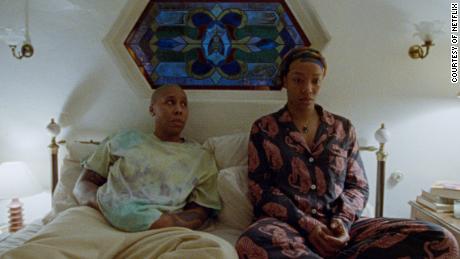 (From left) Lena Waithe and Naomi Ackie star in season three of "Master of None." Oh, how we have missed you, Aziz Ansari. But it doesn't sound like we will be getting much of him.After a four-year absence, his hit series, "Master of None," is returning to Netflix — with a flipped script. The new season will focus on the character of Denise (played by Lena Waithe), BFF of Dev (Ansari's character), and her love, Alicia (played by Naomi Ackie).Waithe in 2017 became the first Black woman to win an Emmy for comedy writing for her work on the show. Ansari directed and cowrote the new season."If you look back at any of the old interviews Alan (Yang, series co-creator with Ansari) and I did in Season 2, I think we were both pretty clear we didn't really want to do the show again if it was the same kind of show," Ansari told Deadline. "We kind of exhausted what we wanted to say about me being a guy in my 30s and single in New York and eating food and running around."Season three starts streaming Sunday on Netflix.Two things to listen to: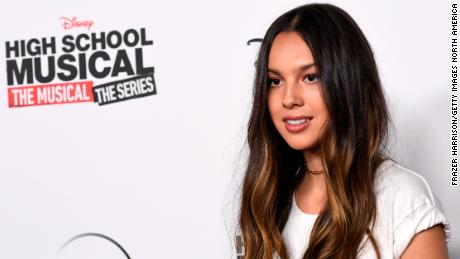 Olivia Rodrigo attends the premiere of Disney+'s "High School Musical: The Musical: The Series" on November 1, 2019, in Burbank, California. Actor Olivia Rodrigo has the songwriting and singing chops that have folks comparing the triple threat to her musical shero, Taylor Swift.The two recently met at the BRIT Awards, and it's a safe bet the topic of Rodrigo's debut album came up. "Sour" features her hit single, "Drivers License," though she told NME fans they shouldn't expect her entire album to sound like that chart-topping song."I love pop-punk music; I love grunge music; I love country music and folk music. I think, honestly, you can see little influences of all of those genres in my album," she said. "And I didn't want to make an entire record that sounded like 'Drivers License.' There's no fun in that for me — and probably not for listeners, either."The album drops Friday.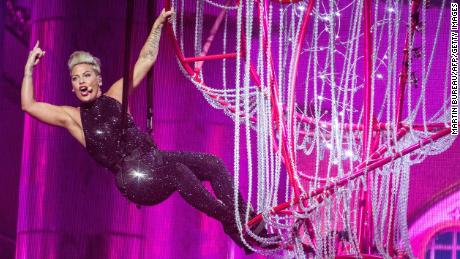 Pink performs at the Paris-La Defense Arena as part of her "Beautiful Trauma World Tour 2019," in Nanterre, near Paris, July 3, 2019.Speaking of incredibly talented female singers, Pink does it like no one else — and she's blessing us doubly this time around.Not only is her album "All I Know So Far" set to debut Friday, it's the companion to her new documentary of the same name.In it, the singer shows how she manages life as a Grammy-winning artist who loves to tour while also being a wife and mother of two young children.It's truly a family affair watching Pink — along with her husband, Carey Hart, and their kids, Willow and Jameson — on the road in Europe during her "Beautiful Trauma Tour," which ran from 2018 to 2019.The doc drops on Amazon Prime the same day as the album. One thing to talk about: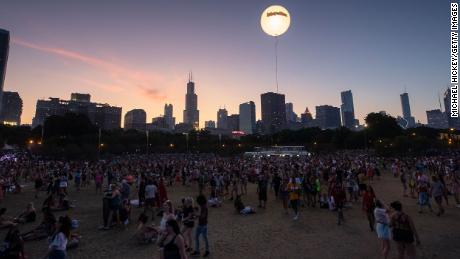 The sun sets on day four of Lollapalooza at Grant Park in Chicago, August 4, 2019. Live music really is coming back.The announcement this week that Lollapalooza is returning at full capacity this summer reminded me of how far we have come during the pandemic. As more and more people are vaccinated, the US is opening up. Nothing is more indicative of that than plans to go forward with Chicago's biggest music festival, slated for July 29 to August 1. If the 100,000 or so people a day who have attended Lollapalooza in the past are willing to come together, it says a lot.Rock on, party people. Something to sip on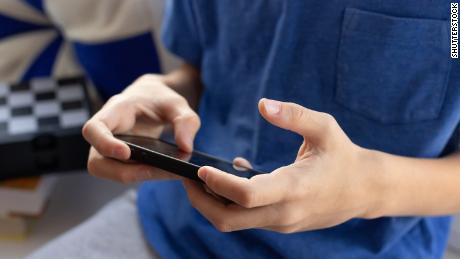 For Gen Z, gaming and music streaming are where it's at.While we are on the topic of the pandemic, is it that it changed the world or merely hastened the inevitable?Covid-19 and shifting generational habits both are helping to reshape the world of media, according to Deloitte's recent 2021 Digital Media Trends survey.One big takeaway is the group known as Generation Z (those born between 1997 and 2012) list watching television and movies at home as their fifth favorite activity.That's a big shift from those of us who are, ahem, a little bit older — and for whom TV and movies were EVERYTHING growing up. Instead, Gen Z is apparently all about video gaming and streaming music.Which begs the question, how is Hollywood planning to step up and serve this younger generation that's signaling they can't be counted on to station themselves in front of a traditional streaming service or hang out in a theater? Perhaps it's time for Tinseltown to step up its game when it comes to producing video-game movies. View this post on Instagram
Source Link:
https://www.cnn.com/2021/05/22/entertainment/army-dead-plc/index.html
Bad Request
Your browser sent a request that this server could not understand.
Size of a request header field exceeds server limit.
Comments
comments