Alexandria Ocasio-Cortez isn't just a force to be reckoned with because she took on a 10-term congressman from New York's 14th Congressional District and won. She's also a powerhouse because she went from being a bartender to potentially being a member of Congress in a matter of months.
Less than a year ago, Ocasio-Cortez worked at Flats Fix, a Mexican restaurant and bar in New York City's Union Square. She is still featured in the main image on the site's website: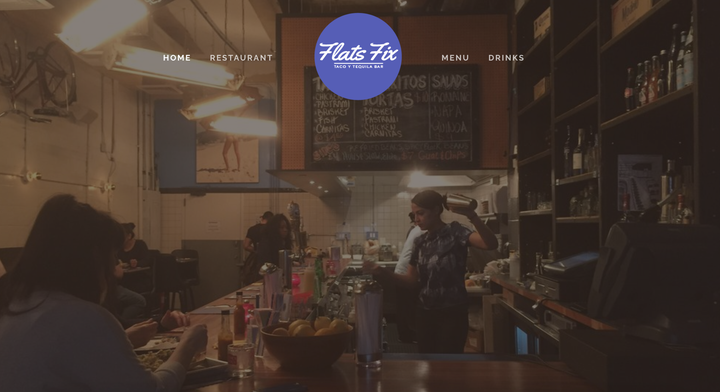 Flats Fix The homepage of Flats Fix, a bar-restaurant where Alexandria Ocasio-Cortez worked
When Ocasio-Cortez, 28, launched her congressional campaign, she put her focus on economic justice. She has advocated for policies such as Medicare for All, a federal jobs guarantee and free college tuition.
This platform helped her beat Rep. Joe Crowley (D-N.Y.), chairman of the House Democratic Caucus, on Tuesday. She called out Crowley for paying "lip service to the post–Donald Trump resistance while maintaining largely centrist politics."
Ocasio-Cortez shared an Instagram post during her campaign last year that showed her hard a work behind the bar. It was accompanied by a heartfelt caption about her family and her vision for the 14th District.
"The funny thing about beginnings is that you rarely know you're in them. My beginning felt like a dead end. My beginning was losing a parent to cancer, working a hard job in the wake of that loss, and complete uncertainty about the future of my family," she wrote. "This whole campaign started because the Bronx and Queens deserves leadership that is accountable to people over profits, and dares to pursue the most ambitious plan possible for our children's future."
"I don't take a dime from corporations because I know it's the only way we get it done," she wrote later in the caption. "No favors, no kickbacks, no short-changing working families and selling our futures to major corporations. Not ever."⠀
Source Link:
https://www.huffingtonpost.com/entry/alexandria-ocasio-cortez-went-from-bartender-to-new-york-history-in-just-months_us_5b33b8f4e4b0cb56051e58b1
[-0.211108]
Comments
comments