(CNN)Welcome signs, colorful banners and campus maps are plastered over Hong Kong's colleges and high schools.
It's the first week of school, but there's one problem — thousands of students are missing from the classrooms.At 10 of the city's 13 universities, students are staging a class boycott, and student union leaders estimate that more than 100 secondary schools also planned class strikes.It's the latest move in pro-democracy protests that have rocked Hong Kong for the past three months, and the students say it will continue until the government responds to all of their five core demands. So far, Hong Kong Chief Executive Carrie Lam has acquiesced to one: the full withdrawal of the bill that would have allowed extradition to mainland China, and which sparked the protests in June. Hong Kong protesters' 5 demands
Fully withdraw the extradition billSet up an independent inquiry to probe police brutalityWithdraw the characterization of protests as "riots" Release those arrested at protestsImplement universal suffrage in Hong Kong
While the demonstrations have spanned all demographics, young people have become the face of the movement, and some have been at the most violent, extreme end of the clashes. More than 1,100 protesters have been arrested this summer — one 13-year-old was arrested for being in possession of two petrol bombs, police say.Read MoreNow students are going through the motions of starting a new school year, buying books and registering for classes. It's a familiar routine, but nothing about it feels normal. "The city is dying," said Kris Fan, a 17-year-old high-school student. "We can't just sit here and read our books. That's no use. I think the city is more important than our academics."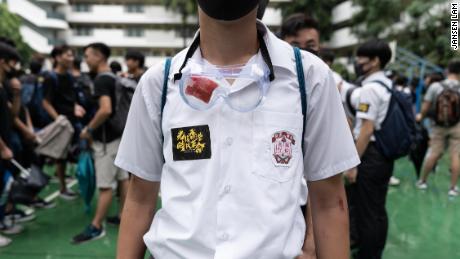 Students at Ying Wa College in Hong Kong boycotted classes and the school year opening ceremony on September 2, 2019.After a summer holiday defined by tear gas, political activism, and the worst political crisis Hong Kong has seen in decades, many young people say they simply can't return to normal student life.One summer can change everythingWhen 21-year-old Davin Kenneth Wong watched the science fiction television show "Stranger Things" with his friends last month, he was struck by its parallels with his own life.In the Netflix show, a band of rebellious kids (plus one with superpowers) do battle against otherworldly monsters to save their hometown. "One summer can change everything," the trailer said. "We totally feel that," said Wong, president of Hong Kong University's Student Union (HKUSU). "This summer really changed everything. We were fighting real-life 'Stranger Things' — but instead of fighting something from another dimension, we're fighting the police."Usually, students spend their summers hanging out with their friends, going to the beach, and resting up. Instead, this summer they transformed into seasoned protest veterans, strapping on gas masks and hard hats.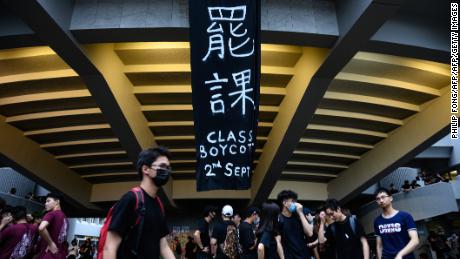 Students boycott classes at the Chinese University of Hong Kong on September 2, 2019.Student unions helped from the sidelines, encouraging students to attend large rallies. Hong Kong University's union also engaged lawyers to provide assistance to arrested students, Wong said. Law students offered protesters legal advice, and medical undergrads volunteered as frontline medics. In some ways, we've seen this before — student activism has a long history in Hong Kong.In 1989, thousands of the city's college and high school students staged rallies to support students protesting in Beijing's Tiananmen Square before the crackdown. The Hong Kong Federation of Students, a cross-college students' union, held fundraisers in support of their mainland counterparts' fight for democracy.Students struck again in 2003 and 2012, blocking legislation they felt gave Beijing too much power. But Hong Kong's young people were truly catapulted onto the global stage during the 2014 Umbrella Revolution. Protest figureheads like Joshua Wong, then just 17 years old, were depicted worldwide as teenage revolutionaries.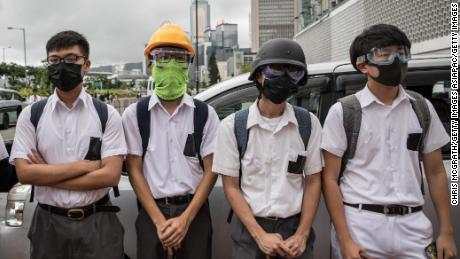 Students take part in a school boycott rally on September 2, 2019, in Hong Kong.The 2014 movement ultimately failed, with the electoral system remaining uchanged. Some of its most high-profile figures, including former student leaders Nathan Law and Sixtus "Baggio" Leung, ran for office and won legislative seats — but they were disqualified in a heated controversy in 2017. The tensions of that failed movement have reemerged this summer — but this time, the students have learned from the lessons of 2014. There is no central figure with star power. Their movement is leaderless, fluid, and democratic, as well as darker and more nihilistic.Protesters began masking their faces as the violence ramped up this summer. Recent weeks have seen young people setting large fires in the street and throwing petrol bombs at riot police, who respond with tear gas, rubber bullets and water cannons.The escalation in violence stems from feelings of desperation, as Hong Kong's young people feel like time is running out in their fight for democracy. The semi-autonomous city currently enjoys certain freedoms and its own legal system under an agreement between former colonial power Britain and China. That 1997 deal ends in 2047, when Hong Kong will be likely absorbed into Xi Jinping's authoritarian China.The fear around that deadline is evident in the protesters' rhetoric. Posters around the city and on campuses read, "If we burn, you burn with us," and "Give me democracy or give me death.""We're losing," said Fan. "We're losing things like freedom of press, freedom without fear. We're just fighting for what we have now."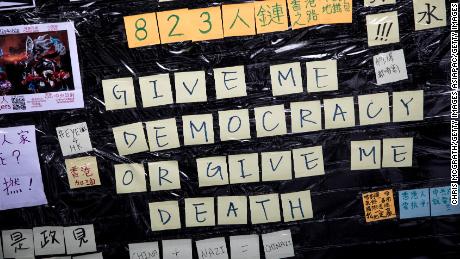 Sticky notes are seen on a "Lennon Wall" at an anti-government student rally on August 22, 2019, in Hong Kong.Model students no moreFamilies in Hong Kong have typically heavily emphasized educational achievement, and students are often laser-focused on getting stellar grades. The idea that students would skip school was practically inconceivable. But for many, priorities have shifted this summer, and many say schoolwork now feels trivial when the city's future is at stake. "(Over) the past few months, so many things happened that society has become unstable, and we're all uncertain about what's going to happen in the very near future," said Joey Siu, a student union executive member at the City University of Hong Kong. Now, she said, "we don't mind sacrificing our school life to spend time on protecting our homeland." Meanwhile, high school students like Fan and 17-year-old Charlotte Chan have to sit the Diploma of Secondary Education (DSE) exam this year, which is used for college admissions. They're worried about the rigorous exam, and say they'll study for it — but they aren't willing to let go of the protests."This is our future — if we just focus on our academic results and neglect our society, I think I will regret it when I'm older," said Chan.
Students are boycotting classes across the city, starting from September 2, the first day of school.Even for those who aren't boycotting, things feel and look different.There are empty classroom seats and political conversations in hallways. Nearly every campus has a so-called Lennon Wall, a mosaic of Post-it Notes bearing protest messages, as well as posters of protest art. At City University, a replica statue of the Goddess of Democracy, which was originally created for the Tiananmen Square protests, is covered in cracks. It was vandalized during the height of the Hong Kong protests, allegedly by a mainland Chinese student, and has been painstakingly glued back together.It's a fitting image — students on the front lines have had their sense of normality shattered and lives forever changed.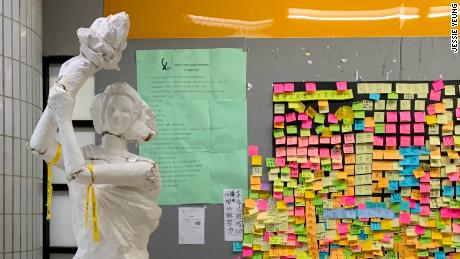 A statue of the Goddess of Democracy at Hong Kong's City University was pushed over and broken in July 2019 as the protests raged on. The statue has been pieced back together.Chan had previously wanted to pursue a career in journalism or marketing, but is now planning to study government and public administration in college. "If I really take part in the government, maybe I have larger power to change the whole thing," she said.Others say they can never go back to being regular kids, the way they were before the protests."I can't give back my knowledge of tear gas and rubber bullets," said Wong, the HKU student leader. "It's here, and it will always be here. I don't want this kind of knowledge, and I don't want these memories."Sometimes he "fantasizes" about returning to a normal, carefree life — but moving on before the crisis has been resolved would be "to ignore what has happened." "We can't just let this go," he said.Tension in the air with students back on campusNot every student supports the protests. And while it might have been easier for students on opposing sides to ignore each other over the summer, now they will sit close by in class and work together on school projects.Nearly every student CNN spoke to believed there would be some friction between those who support the protests, and those who back the police and government. Fan admitted there will likely be some bullying directed at pro-police students — if not ostracization. Earlier this summer, Chan said one classmate posted a video online lambasting her school and its students for supporting the protests. "She went back to school after the video and people discussed her in corners, saying, 'That's the person,'" Chan said. "We won't argue face to face, but just act like we're not seeing her."Chinese students from the mainland are also worried. Several who spoke to CNN said they were nervous returning to campus with such widespread anti-China sentiment. One mainland student was warned by her friends to avoid speaking Mandarin in public.The protests are, in many ways, a direct statement of defiance against Beijing. Protest signs often read "HK is not China." At a pro-Hong Kong democracy rally at Australia's University of Queensland, clashes broke out between pro-Hong Kong protesters and mainland Chinese counter-protesters, who blasted the Chinese national anthem on a loudspeaker.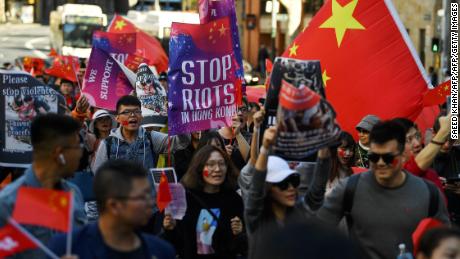 Pro-China activists in Sydney on August 17, 2019, rallying against ongoing protests in Hong Kong.Meanwhile, Beijing's rhetoric has become increasingly tough on the situation, moving from calling the protesters "rioters" to saying their actions showed "signs of terrorism." State media agency Xinhua warned in a recent commentary that "the end is coming for those attempting to disrupt Hong Kong and antagonize China."These Hong Kong-mainland hostilities aren't new on campuses.Even before the protests began, mainland and local students tended to stay separate, said Siu, the City University student union leader. Siu added that each year a handful of mainland students try to tear down posters critical of the Chinese government.However, most high school and college students CNN spoke to advocated for keeping their campuses as safe spaces for intellectual discussion, where they can be exposed to different perspectives."If people support the police, we need to ask why, because maybe we as protesters have also done violent things," said Fan. "We need to open up ourselves to talk to them, rather than just scold them."School administrations have generally tried to stay neutral. Most universities, such as HKU, Chinese University of Hong Kong, and Lingnan University, have not threatened any action for students who are boycotting — although they have warned that missing class could hurt students' attendance records and grades.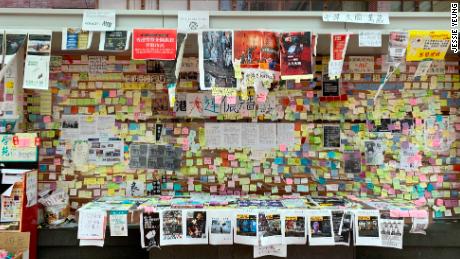 A "Lennon wall" at Hong Kong University shows protest messages, art, and posters.Sometimes classroom policies are decided by the professors. King-wa Fu, an associate professor of journalism and media studies at HKU, plans to audio-record lectures and put them online for students — a new measure this year."I wrote to assure the students their freedom of expression and freedom of assembly are fully respected, but there is their responsibility to catch up with the class progress no matter you miss any class or not," Fu said.Hong Kong's Education Bureau, which oversees all education levels, has taken the harshest stance so far, condemning the boycott and asking parents to "dissuade" their children from joining in a letter sent on August 29. "Schools should never be used for expressing political demands, and more importantly, minors should not be involved as the move could bring them emotional disturbances and undermine school harmony," said the letter, signed by Secretary for Education Kevin Yeung. It further urged parents to advise their children against "taking part in dangerous or illegal activities."For some students, neutrality is not enough. Wong and Siu are trying to convince their respective university leaders to offer support for the striking students with measures like waiving attendance records or providing recorded lectures, as Fu has done."I think this is the minimum the university can and should do," Wong said.Where do we go from here?University boycott organizers say they are issuing a two-week deadline for the government to respond to their demands, before they consider further escalation. For now, they're still going to campus — but instead of attending classes, they're holding their own events and makeshift lectures, with guest speakers and panel discussions on the unrest.Meanwhile, Lam has made clear that she and her administration will not be capitulating to the protesters' full five demands."In the last two months or so, the government has repeatedly given a reply to the demands from different people," she said at a press conference on August 27, addressing accusations of government inaction. "It is not a question of not responding — it is a question of not accepting those demands."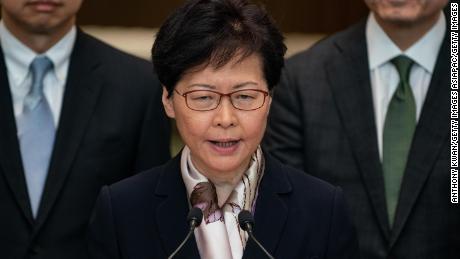 Carrie Lam, chief executive of Hong Kong, speaks during a press conference on August 5, 2019, in Hong Kong.Both sides are digging their heels in, even as energy, patience, and time run short. "We're not just physically exhausted, we're mentally exhausted," said Siu. It's not just the demonstrators who are run ragged — business owners, police officers, journalists, and everyday citizens are weary after 13 straight weeks of protest.But as the student strike seems to signal, there is no clear end in sight."The reason for this movement to be so long lasting is because everyone is trying to think of something to do, to really meet our objective and get our aim," said Wong. "We are trying any way possible we can think of just to get what we want, which is just freedom. Simply freedom."
Source Link:
https://www.cnn.com/2019/09/05/asia/hong-kong-student-protests-school-intl-hnk/index.html
[-0.367449]
Comments
comments