An Aeroméxico flight carrying more than 100 people crash-landed shortly after taking off from Guadalupe Victoria Durango International Airport in the northwest Mexican state of Durango, news outlets reported Tuesday.
There were no reported fatalities, according to Durango Gov. Jose Rosas Aispuro and the airline.
Se confirma que no hubo fallecidos en el accidente del vuelo #AM2431. En estos momentos se encuentra parte del Gabinete, encabezado por la Coordinadora @RosarioCastroL, para atender a los lesionados y cooperar con las autoridades del aeropuerto en la atención de éste suceso.
— José R. Aispuro T. (@AispuroDurango) July 31, 2018
Ninety-seven passengers and four crew members were aboard the aircraft, Mexico's Secretary of Communications and Transportation Gerardo Ruiz Esparza said in Spanish over Twitter.
The airline confirmed that an accident occurred involving Flight 2431 from Durango to Mexico City. The aircraft is an Embraer 190.
Photos taken at the scene show a plume of black smoke behind the aircraft, which appeared to be on fire in a grassy field.
Grupo Fórmula, a Spanish-language radio station, reported that the incident occurred just a few minutes after takeoff.
The airport operator said in Spanish on Twitter that preliminary evidence suggested the plane malfunctioned in bad weather.
Video footage of the Durango sky appeared to show a strong storm gathering at the time of the crash.
Este video nos reporta el cielo de #Durango durante el accidente aéreo en #Vuelo2431 de #Aeroméxico que se desplomó en Aeropuerto Guadalupe Victoria en Durango. Pueden notar la fuerte tormenta que cayò justo entre 3pm y 4pm pic.twitter.com/fjSfrPAXLc
— Webcams de México (@webcamsdemexico) July 31, 2018
Mexican President Enrique Peña Nieto expressed well wishes for everyone onboard and said he had instructed federal agencies to coordinate a response.
Se reporta accidente aéreo en el aeropuerto de Durango pic.twitter.com/5qre5FHyfk
— Azteca Noticias (@AztecaNoticias) July 31, 2018
#Ahora Confirman Protección Civil la caída de una avión de Aeroméxico de más de 100 pasajeros en el aeropuerto internacional Guadalupe Victoria. #Durango https://t.co/7rKuPLqKZI pic.twitter.com/fsbY2rLAgD
— Publimetro México (@PublimetroMX) July 31, 2018
Video del avión que se desplomó Durango hace unos minutos @Aeromexico , autoridades ya trabajan en el área. pic.twitter.com/SEs04uIJF3
— HORIZONTES ??? (@Horizontes_Dgo) July 31, 2018
This article has been updated with reports of no fatalities and information on the weather.
RELATED COVERAGE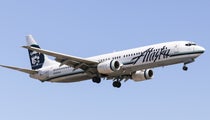 Gay Couple Told To Leave Alaska Airlines Flight So Straight Couple Could Sit Together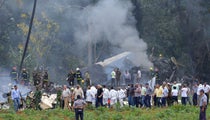 Over 100 Reported Dead After Plane Crashes Outside Havana's Main Airport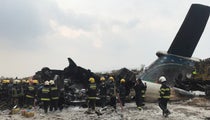 At Least 50 Dead After Plane Crashes While Landing At Kathmandu Airport In Nepal Download
Source Link:
https://www.huffingtonpost.com/entry/aeromexico-flight-involved-in-accident-in-northwest-mexico_us_5b60d0efe4b0fd5c73d412a2
[0]
Comments
comments