(CNN)Acting Customs and Border Protection chief Mark Morgan fiercely defended Border Patrol officers at a Senate hearing Tuesday morning, saying the "demonizing of law enforcement professionals must stop."
"The men and women of CBP are not running concentration camps, making those in our custody drink from toilets, nor denying them access to toothbrushes. That is simply not true," Morgan said directly disputing the accounts from some members of Congress. "The demonizing of law enforcement professionals must stop."He said the attacks on the agency are "demoralizing" and deteriorate the public's understanding of the "true issues" at the border. Morgan also denied Tuesday that there is a culture or pattern of cruel and illegal treatment of migrants in custody. Responding to allegations of humiliation, sexual assault and deprivation raised by Democratic Sen. Maggie Hassan of New Hampshire, Morgan said, "we have to be cautious when there are allegations that have not been fully adjudicated."He promised that "any allegation will be thoroughly and completely investigated."Read MoreTuesday's hearing before the Senate Homeland Security Committee marked Morgan's first time testifying as acting commissioner. He took over the leadership post at CBP after a short stint as Immigration and Customs Enforcement acting director.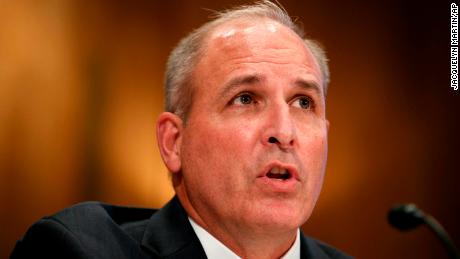 Customs and Border Patrol acting Commissioner Mark Morgan testifies to the Senate committee on Tuesday on Capitol Hill in Washington. (AP Photo/Jacquelyn Martin)His testimony comes in the wake of a surge in apprehensions on the US-Mexico border, which caused intense overcrowding and long wait times at Border Patrol facilities. The numbers of migrants arrested by Border Patrol, a measure of illegal border crossings, began to drop in June, but the numbers remain high compared to previous years. CBP facilities came under intense scrutiny over recent months amid the overcrowding. Media and government reports revealed perilous conditions for migrants, drawing the ire of Democratic lawmakers and immigration advocates. Rep. Alexandria Ocasio-Cortez, a Democrat from New York, accused the Trump administration of running "concentration camps" in its detention of migrants at the southern border. The Department of Homeland Security deputy inspector general, Jennifer Costello, testified Tuesday that additional reports, including a comprehensive report on unannounced visits to Border Patrol facilities, are expected to roll out starting in September. Committee Chairman Ron Johnson, a Wisconsin Republican, and the panel's top Democrat, Sen. Gary Peters of Michigan, agreed that there are significant challenges at the US-Mexico border at the start of Tuesday's hearing. "I'm not interested in placing blame," Johnson said.Peters conceded that "resources are stretched thin."The top Democrat and top Republican appeared to be striking a similar tone, marking a stark difference between top Democrats and top Republicans in the House, which has also held a series of hearings on the ongoing border crisis.
Source Link:
https://www.cnn.com/2019/07/30/politics/acting-cbp-chief-demonizing-must-stop/index.html
[-0.739113]
Comments
comments