(CNN)New on-the-record accounts from E. Jean Carroll's confidantes helped deflate a theory, spreading on social media, that Carroll ripped her allegations against Donald Trump from a popular TV show.
Donald Trump Jr. has been among those fueling theories online that Carroll fabricated her story of his father sexually assaulting her more than two decades ago.The President's son retweeted an episode of "Law & Order: Special Victims Unit" from January 2012, which briefly mentions an alleged assault in a dressing room at Bergdorf Goodman, a New York City department store.
Rape allegation against Trump splits GOP women of the SenateIn the episode, the district attorney character asks: "Did anyone want to role-play a rape with you in a public place?"The rape suspect in the episode eventually responds: "Role-play took place in the dressing room at Bergdorf's while she was trying on lingerie, I would burst in."Read MoreThe incident is similar to the attack Carroll has described, in which Donald Trump allegedly lunged at her and then sexually assaulted her in a Bergdorf's dressing room in the 1990s. The President has denied that he attacked her. But on Thursday, two of Carroll's friends shared their stories publicly and on the record. Lisa Birnbach and Carol Martin, both prominent media figures, recalled that Carroll told them about the alleged attack as soon as it happened more than 20 years ago, further evidence that Carroll did not invent the story from a television episode that aired many years after those conversations.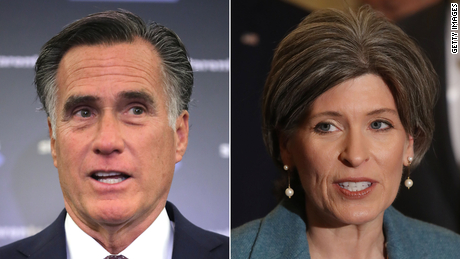 Two Republican senators say rape allegation against Trump should be investigated while many in GOP stay mumFor her part, Carroll, an advice columnist for Elle magazine for 26 years, flatly denied that she invented her attack based on that "Law & Order: SVU" episode. In the TV episode, the mention of the Bergdorf's incident is brief. Carroll, meanwhile, has offered a detailed account of her run-in with Trump, spanning seven pages in her forthcoming book.Someone brought the "Law & Order" clip to Carroll's attention in recent days, and she believes it is a wild coincidence."It tickled me to death," she told CNN. "It's a great, huge coincidence, but it is a magnificent one, I must say."A person with knowledge of how the "Law & Order: SVU" episode came together said there's "no correlation — none whatsoever" between the 2012 episode and Carroll's allegations against Trump.Though she's an avid "Law & Order" franchise fan, Carroll said she doesn't watch the "SVU" series because she thinks it's too violent."It's very ironic because 'Law & Order' happens to be one of my favorite shows," she said. "I love 'Law & Order: Criminal Intent.'"
Source Link:
https://www.cnn.com/2019/06/27/politics/carroll-friends-deflate-law-order-episode/index.html
[-0.457524]
Comments
comments