(CNN)
You know what's an underrated pleasure? Being alone. Yes, we all love our husbands, wives, partners, children and assorted animal companions, but there's a special joy in being able to enjoy the pleasure of one's own company. In fact, alone time is actually good for you. It's science! Research shows being alone may help you be more creative and productive. Plus, if you're an introvert — or are just prone to long, fruitful periods of silent contemplation — being alone is an ideal way to recharge. Don't be afraid to go to that movie alone, or set up a solo brunch date. That way, you can be fully present when it's time to go back to hanging with your husband, wife, partner, children and assorted animal companions. Our favorites this weekGet going with some of our most popular good news stories of the week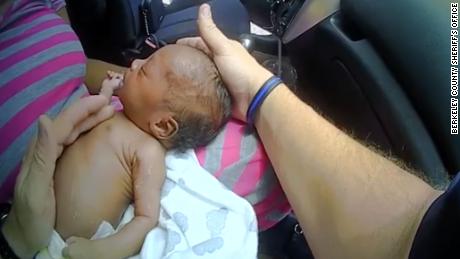 A tiny life is saved at a traffic stop A police officer in South Carolina thought he was just pulling a car over last month for a routine speeding stop, but he ended up saving the life of a tiny, 12-day-old infant. The whole incident was caught on body cam, and though it's dramatic, it has a happy ending. As Deputy Will Kimbro pulled the car over, the driver leaped out and yelled that the baby she was holding wasn't breathing. Kimbro placed the limp little girl on the woman's lap and started CPR, occasionally massaging the baby's heart. "Come on, baby, cry for me, cry for me," Kimbro said. "Open those eyes, sweetheart." Luckily, the baby eventually came to and started breathing on her own. She was rushed to a hospital for observation, and she's doing well, according to the Berkeley County Sheriff's Office. Kimbro was given a medal for his actions because what he did is exactly what protecting and serving is all about.
Read MoreSmile! A goat may notice Goats are already pretty fantastic animals (unless they're eating something they shouldn't be which … is always), and new research has given us one more reason to be charmed by their hircine ways. Apparently, goats are able to distinguish between positive and negative emotions in other goats' calls and react to their fellows goats' feelings. Researchers pointed out that goats are "highly social" and may use their communicative calls to "strengthen social bonds and group cohesion." What's more, they said this new insight into the emotionally intelligent goat mind could show that other animals "might also be sensitive to the emotional states of other individuals." So, be nice to goats! Not only could you be hurting their feelings, but they'll definitely eat your shoelaces, too.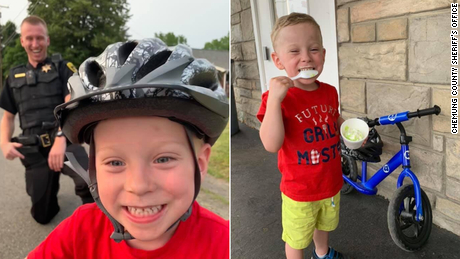 A sweet reminder Kids, wear your helmets! Law enforcement in Chemung County, New York, saw that some of their community's little cyclists weren't protecting their precious melons, so they decided to sweeten the lesson. All summer long, police and sheriff's deputies are ticketing kids who wear helmets — but the "tickets" are for free ice cream. A local bicycle league and scoop shops across town have helped spread the initiative. Kent Goben of the Southern Tier Bicycle League said the initiative definitely works. "There's nothing like seeing the kids do a mad dash on their bicycles to get over (to the officers) and get the coupons," he told CNN. With their helmets on, of course. Raise a glass to…
Tim Crowley, a Utah man who found an injured baby bird and sent it to a nearby wildlife rescue … in an Uber! What a sterling example of responsibility. See, Crowley was day-drinking with some friends when he saw a baby bird fall from the sky. He knew he wasn't in a condition to drive, so he messaged the Wildlife Rehabilitation Center of Northern Utah and then called an Uber to transport the precious cargo. It took two tries to get a driver to take him seriously, but eventually the orphaned baby bird, a lesser goldfinch, got a lift to the shelter. "While we feel we've seen it all and can't be amazed by anything, there is always SOMEONE out there to prove us wrong," the center's workers wrote on Facebook. A bright idea Everyone should be able to experience the pleasures of hiking, whether they use their own two feet or not. Michigan's Sleeping Bear Dunes National Lakeshore is now offering a heavy-duty track chair for guests with disabilities so they can experience some of the park's harder-to-reach terrain. The track chair program takes guests on a 1.5 mile loop on the Bay View Trail, which goes through a meadow, past some historic farms and up a bluff to an overlook of Lake Michigan. Sleeping Bear Dunes is the first national park to offer this nifty service, and park employees say they're hoping to get more chairs on more trails soon. You gotta see this
The search is over, we've found the PERFECT baby shower gift. Yes, this is an illustrated children's book about Metallica, and yes, it is actually extremely wholesome. "The ABCs of Metallica" tells the band's history in sing-song rhyme and, even better, a portion of the proceeds goes to the All Within My Hands Foundation, Metallica's own nonprofit that supports workforce education and hunger prevention. Just don't blame us when your little one starts preferring a nightly rock-out to "Enter Sandman" instead of "Twinkle, Twinkle, Little Star." Wanna get away?
Oh, hello, literal fairytale creature. Japan's Nara Park is famous for the 1,000 or so sacred deer that roam the grounds, delighting people with their polite bows and gentle nature. However, a trip to this heavenly place can get a little chippy if proper deer-feeding rules aren't followed. The general guidelines? Feed the deer if they perform for you, be aware of your surroundings and leave the babies alone (the moms can get pretty aggressive). CNN Travel's latest article about Nara also includes one of the purest photo captions ever: "Soft baby deer enjoy being pet." Great, now all I want to do is pet one!Who knew?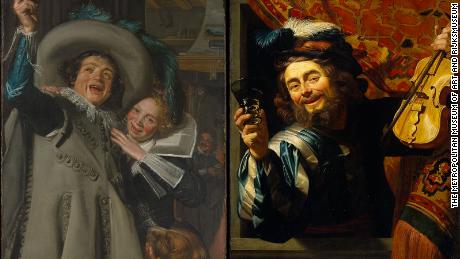 Have you ever looked at an old painting and thought, "Man, everyone was miserable back then?" There's actually some good reasons why most old portrait paintings don't feature smiling subjects. For one, imagine having to hold a smile for the many hours it took to sit for a portrait. The facial cramping! Also, since no one had phone camera rolls with 1,000 selfies on them, portraits were often one of the only artistic interpretations someone would see of their face. Smiling was thought to kind of ruin the whole mood. It's serious business!Tell us something good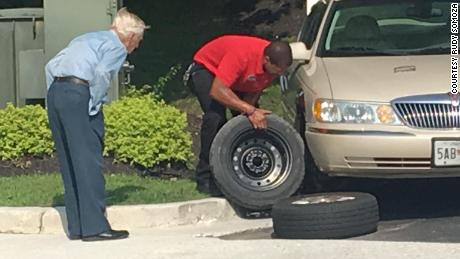 Severn, Maryland This is the true meaning of community right here. Chick-fil-A manager Daryl Howard jumped into action when a regular customer, 96-year-old Mr. Lee, came into the store and said he needed help with a flat tire. "He was shaking, almost in tears saying he barely made it to the store on three tires because one was bad," Rudy Somoza, another manager, told CNN. Howard didn't hesitate — he left managerial duties to another staff member and headed outside to change the tire. It only took about 15 minutes, but the photos of his good deed will be warming hearts for a while. Shameless animal video There's always time for cute animal videos. That time is now. I love cute videos of animals we don't traditionally think of as "cute." For instance, there are a ton of videos out there of chickens being sweet snuggle bugs. Combine that with a sleepy dog, and you have a real animal video jackpot. (Click here to view.)
Source Link:
https://www.cnn.com/2019/07/13/us/the-good-stuff-071319-trnd/index.html
[0.48758]
Comments
comments