(CNN)Newnan, a small city southwest of Atlanta, is rarely in the news, and the 33,000 folks who call it home prefer it that way.
But this Saturday, it'll be hard for the city to avoid the spotlight when the National Socialist Movement, one of the largest neo-Nazi groups in the US, marches through downtown. Cops, wary of the kind of violence that broke out after Charlottesville, have asked businesses to put away anything that could be thrown, such as chairs and tables. Many shop owners decided they'll just shutter their stores. "Saturday is our busiest day of the week, but we want people to know that Newnan doesn't stand for this," said Rachel Kuehl, the owner of Newnan Mercantile, a quaint farmhouse decor shop. "We're not a city that promotes hate."It's a big financial hit for these local businesses, so residents are doing something about it.Read MoreThey're urging each other to go shop on Friday to make up for the drop in revenue.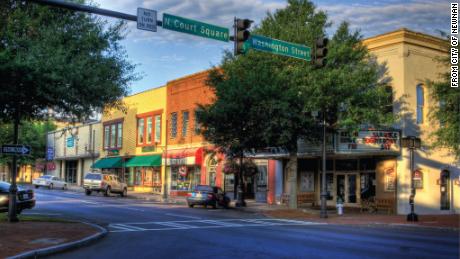 Kuehl, along with other store owners, will stay open later than usual to welcome any extra business they can get before this weekend's rally. Through social media posts, local groups are promoting events — from musical performances to signups for upcoming 5K races — to get people downtown to support the local shops and restaurants.One non-profit, Backstreet Community Arts, is asking kids to come to the city park and cover it with chalk drawings of hearts, rainbows and flowers."It will be hard for the hate group to take serious video footage when a rainbow-colored unicorn is in the shot," the group said. Some are even giving away #NewnanStrong t-shirts to show the city's unity as groups of neo-Nazis drive through town.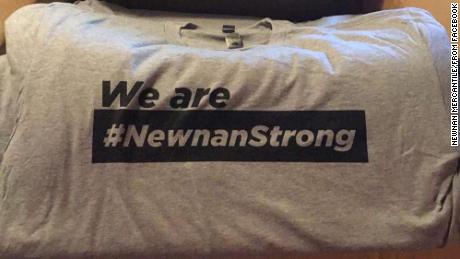 For Cheerful Long, it's important to go downtown to support these business owners because they're a part of the community too."These are my friends, and they're going to lose a lot of business," said Long, who has lived in the city for seven years. "I want to teach my kids that this is how you support your community."It'll be a family night for Long and her three kids, but there's still a lingering fear for many about what Saturday's rally will bring to Newnan."It's just scary because of all of the violence you see and hear about happening in other places," said Kuehl, who has lived in the city for 11 years. "We didn't ask for that here. We don't want that here." It's the ideology of hate that locals don't want in their town. While the neo-Nazi group rallies, a church 10 minutes away will hold an interfaith service as a religious alternative to promoting harmony in response to the rally."While their message and purpose is not a welcomed message or purpose, their presence is welcomed," said Tamarkus Cook, senior pastor of Saint Smyrna Baptist Church. "Newnan is a welcoming environment and community. I pray their message aligns with one of peace and unity."
Source Link:
https://www.cnn.com/2018/04/20/us/newnan-neo-nazis-rally-trnd/index.html
[-0.183356]
Comments
comments