Story highlightsThe Golden Globes are Sunday nightThis year is about more than awards
(CNN)The 75th Annual Golden Globe Awards on Sunday was a night of firsts and a reminder of the power of Oprah.
Sterling K. Brown became the first African-American actor to win in the best actor in a TV drama category for "This Is Us," and Aziz Ansari was the first Asian actor to win a Golden Globe for best actor in a TV comedy for "Master of None."Brown talked of benefiting in his career "from colorblind casting" and thanked "This Is Us" creator Dan Fogelman in his acceptance speech."Dan Fogelman, you wrote a role for a black man that can only be played by a black man," Brown said. "What I appreciate so much about this is that I'm being seen for who I am and being appreciated for who I am, and it makes it that much more difficult to dismiss me or dismiss anybody who looks like me."But it was Oprah Winfrey, the first black woman to be awarded the Cecil B. DeMille Award for lifetime achievement, who brought the audience to their feet with her stirring speech.Read More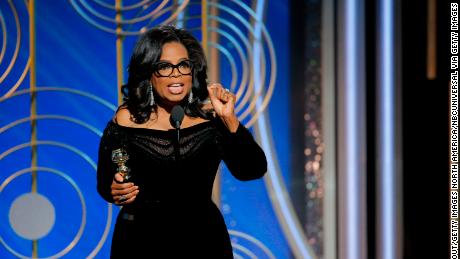 Oprah Winfrey accepts the 2018 Cecil B. DeMille Award onstage during the 75th Annual Golden Globe Awards."For too long women have not been heard or believed if they dared to speak their truth to the power of those men," she said. "But their time is up." The early winners of the 75th Annual Golden Globe Awards represented women who played empowered characters.The first award of the night went to Nicole Kidman, who won best actress in a limited series for her role in HBO's "Big Little Lies."Kidman noted that her character's struggle with abuse is at the center of Hollywood's current conversation about the treatment of women. "I do believe and I hope we can elicit change through the stories we tell and the way we tell them," she said. "Let's keep the conversation alive." Elisabeth Moss took home the award for best performance by an actress in a TV drama for her starring role in the Hulu dystopian series, "The Handmaid's Tale."Moss thanked Margaret Atwood, the author of the book the drama is based, in a powerful speech that included her thoughts on female characters breaking through "the white space.""We no longer live in the blank, white spaces at the edge of print," Moss said. "We no longer live in the gaps between the stories. We are the story and print and we are writing the story ourselves.""The Handmaids Tale" also won for best TV drama. Host Seth Meyers kicked off Sunday's ceremony with a monologue that included a few jokes about President Trump, but he targeted most of his humor toward Hollywood.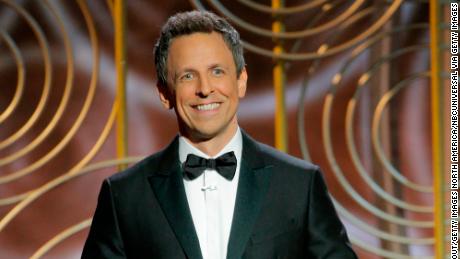 Golden Globes host Seth Meyers"For the male nominees in the room tonight, this is the first time in three months it won't be terrifying to hear your name read out loud," Meyers joked, referencing the flood of recent sexual-misconduct controversies within the entertainment industry."Harvey Weinstein isn't here tonight because, well, I've heard rumors he's crazy and difficult to work with," Meyers quipped. "But don't worry, he'll be back in 20 years when he becomes the first person ever booed during the In Memoriam."Among the night's big winners was "Big Little Lies." In addition to Kidman's win, the show also won Globes for best limited series or motion picture made for television, best supporting actor for Alexander Skarsgard and best supporting actress for Laura Dern. The film "Three Billboards Outside Ebbing, Missouri," about a mother's quest to find her daughter's killer, won for best motion picture, drama. Stars Frances McDormand and Sam Rockwell won best actress and best supporting actor, respectively. The coming-of-age film "Lady Bird" won the Globe for best movie comedy, and its star Saoirse Ronan won for best comedic actress.The Golden Globes come at a time when the #MeToo movement, which has cast attention on sexual harassment, violence and gender inequality, has found champions among women in entertainment. Time's Up, an anti-sexual harassment and assault initiative organized by hundreds of women in the industry, launched one week ago.Women and men supporting the organization arrived to the Globes wearing black, many accessorizing with a pin featuring the Time's Up logo.The winners of the night were determined by the Hollywood Foreign Press Association (HFPA), a non-profit organization made up of about 90 international journalists.Related: Golden Globes: The winners listDuring the telecast, HFPA announced $2 million in grants to the International Consortium of Investigative Journalists and the Committee To Protect Journalists. "We HFPA journalists are committed to supporting humanitarian organizations, film restoration, and film education," Meher Tatna, president of the Hollywood Foreign Press Association, said in a statement. "To date, we have granted over $30 million to those causes. And being an association of journalists, we are keenly aware of its importance, especially today."
Source Link:
http://www.cnn.com/2018/01/07/entertainment/golden-globes-2018/index.html
[0.363797]
Comments
comments