(CNN)The Tour de France is the most coveted race in all of cycling. But the title hasn't touched French hands since Bernard Hinault last won it in 1985. This year, the French have put their faith in current leader, Julian Alaphilippe.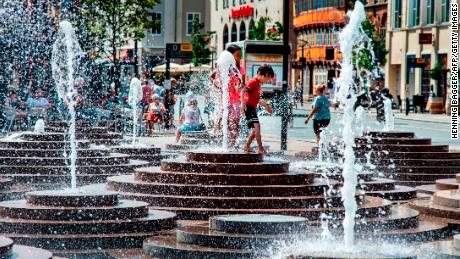 Europe's heat wave is shattering temperature records and cities are struggling to copeWhile Alaphillipe currently leads the pack on the back of some gutsy cycling, there is no guarantee that he'll come out on top in the end. He'll have to battle through the fatigue of over 20 days of cycling and the crushing altitude of the Alps, all while fending off as many as seven other cyclists who remain in contention to catch him. And if that wasn't challenging enough, a record heat wave will turn his path to victory into a scorching oven. As France braces for a heated finale, Spain's most storied rivalry makes its way to the United States and Las Vegas plays host to a star-studded WNBA All-Star weekend — not to mention the conclusion of what have been some testy moments in the pool at the swimming world championships in South Korea.Here's your guide to the weekend's biggest sporting events:Tour de FranceRead MoreThree weeks ago, 218 cyclists set out on a quest to conquer the illustrious hills and curves of the Tour de France. By the end of the weekend, only one of them will don the centenary yellow jersey at the victory ceremony in front of the infamous Arc de Triomphe in Paris. Despite his lead, Julian Alaphillipe — a proven force in the sport's shorter races — is still an underdog. On Stage 18, the Frenchman saw his lead cut into by Colombian rider Egal Bernal. But after the grueling 2,000-meter ascent, Alaphillipe still had the presence of mind to lend his yellow jersey to a shivering, young onlooker.
Julian Alaphilippe a reçu la visite de proches en zone mixte au moment où l'orage s'est abattu sur Valloire. Parmi eux, un petit garçon frigorifié. Personne n'avait de veste à lui prêter, alors… 👏🏼 #TDF2019 pic.twitter.com/O02v9knWc6
— Louis-Pierre Frileux (@LPFrileux) July 25, 2019 He will look to put all questions about him to rest this weekend with the Alps and the adoration of an entire nation as his backdrop. Watch it:Friday: Stage 19 starting at 8 a.m. ET on NBCSN Saturday: Stage 20 starting at 8 a.m. ET on NBCSunday: Stage 21 starting at 12:30 p.m. ET on NBCSN and 2 p.m. ET on NBCInternational viewers should check their local listings.Real Madrid vs Atletico MadridIn its first rendition outside of Europe, Atletico Madrid and Real Madrid — two clubs that have been at odds for well over a century — write a new chapter in their storied derby history. The two will face off in the International Champions Cup in East Rutherford, New Jersey, as they prepare for their upcoming league and European campaigns. And while the ICC is technically a preseason exhibition tournament, neither of these sides nor their fans have a clue how to take this match lightly.
From dream start to nightmare end, Gareth Bale's Real Madrid career turns sourThey haven't held back anything since their first official meeting in 1928. The chances that they start now are slim.Watch it:Friday: 8 p.m. ET on ESPNInternational viewers should check their local listings.Swimming world championships
Controversial swimming star Sun Yang reacts angrily after opponent refuses to share podiumThe 2019 FINA Swimming World Championships have produced some shocking moments in and out of the pool in Gwangju, South Korea.Australian Ariarne Titmus handed Katie Ledecky a surprising 400-meter defeat before the American phenom withdrew from the 200-meter and 1,500-meter freestyles due to illness. She since has made her return to the pool to help the Americans win silver in the 4 x 200-meter relay and is scheduled to swim in the 800-meter final.World records have been set, including Adam Peaty becoming the first man to swim a sub-57-second 100-meter breaststroke, shaving a quarter of a second off his previous world record of 57.13.
Want to see @adam_peaty become the first man in history to break 57 seconds 👀pic.twitter.com/7k2m60irqt
— British Swimming (@britishswimming) July 21, 2019 Additionally, 19-year-old Kristof Milak broke the 200-meter butterfly world record, previously set by Michael Phelps a decade ago.
STOP THE PRESSES! A fantastic new World Record from 19-year old Kristóf Milák of Hungary in the Men's 200m Fly beating Michael Phelps old mark of 1:51.51, set a decade ago in Rome, with a new time of 1:50.73…Outstanding! 💪👑#Swimming #FINAGwangju2019 pic.twitter.com/Qr2DiOGDG3
— FINA (@fina1908) July 24, 2019 Paired with the glory is controversy. American Lilly King was disqualified from the 200-meter breaststroke when it was ruled she failed to touch the wall with both hands at the same time in the first turn in the preliminary heats.
American swimmer Lilly King loses disqualification appeal at world championshipsBritain's Duncan Scott refused to stand on the podium with China's Sun Yang, coming after Australian Mack Horton, who has previously labeled Sun a "drug cheat," also wouldn't take the podium or shake hands with Sun.This weekend will feature an array of aquatic finals, and with it, some more moments to remember ahead of the 2020 Tokyo Olympics.Watch it: Friday: Day 6 Finals at 7 a.m. ET on Olympic ChannelSaturday: Day 7 Finals at 7 a.m. ET on Olympic Channel Sunday: Day 8 Finals at 7 a.m. ET on NBCSN International viewers should check their local listings.WNBA All-Star GameThe All-Star talents of the WNBA will be on display in Las Vegas this weekend. Six-time All-Star Elena Delle Donne of the Washington Mystics chose Brittney Griner of the Phoenix Mercury as the top pick in the first televised WNBA All-Star Team selection special.
There's no shortage of top talent on @De11eDonne's @WNBA All-Star squad! 💪🎥 pic.twitter.com/j1KCuFiqdJ
— NBA TV (@NBATV) July 25, 2019 Fans chose Las Vegas Aces forward, A'ja Wilson, as the other All-Star captain in just her second season in the league. The 2018 Rookie of the Year made sure to put her two All-Star teammates in her squad. Liz Cambage and Kayla McBride are used to putting up big numbers in front of their home crowd at the Mandalay Bay Events Center. Tune in to see the All-Star festivities this weekend.
Team @_ajawilson22 is ready to make noise at this weekend's @WNBA All-Star game! ⭐️ pic.twitter.com/eAl4q3dUmc
— NBA TV (@NBATV) July 25, 2019 Watch it: Friday: Three Point Contest and Skills Challenge at 7 p.m. ET on ESPNSaturday: Team Delle Donne vs. Team Wilson at 3:30 p.m. ET on ABCInternational viewers should check their local listings.
Source Link:
https://www.cnn.com/2019/07/26/sport/weekend-sports-lineup-for-july-26-28/index.html
[-0.384011]
Comments
comments