(CNN)Senior citizens are a blessing. This weekend, my grandmother-in-law turns 100, and last weekend, my own grandmother turned 94. That's a LOT of life! Think of everything they've seen and done that so few people can properly imagine. I could listen to my grandmother tell stories of her youth all day. Does she repeat a few? Of course, but they're just as invaluable at the 50th telling as they were the first time around. Things might slow down as we age; a few parts may need replacing and the chassis may get a few dents, but aging is a privilege that too many people don't get the chance to experience. As these two lovely ladies and all of our elderly loved ones show, we don't have to grow old. We get to.
Our favorites this week Get going with some of our most popular good news stories of the week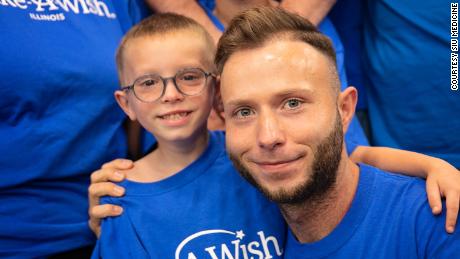 Better than a character breakfast When he was a baby, 7-year-old Gabriel Smith was diagnosed with a rare blood condition. His only hope, doctors said, was a bone marrow transplant. Halfway around the world, Dennis Gutt of Schuby, Germany, decided to donate bone marrow through the "Be the Match" registry. The now-25-year-old carpenter's donation would end up saving little Gabriel's life, and would start the two parties on a path to a remarkable meeting. The Smith family eventually exchanged messages and photos with Gutt, and he was deeply moved to hear Gabriel pulled through. Last year, the Make-A-Wish Foundation approached the Smiths and offered to grant Gabriel a dream experience. When given the choice between Disney World and meeting the man whose donation saved his life, Gabriel didn't hesitate. Gutt was flown from Germany to Springfield, Illinois, to meet the little boy. The Smiths say Gutt is "part of the family now," and Gutt said his decision to donate was a no-brainer. "I think it's natural that every person who can help should do this," he said. Read More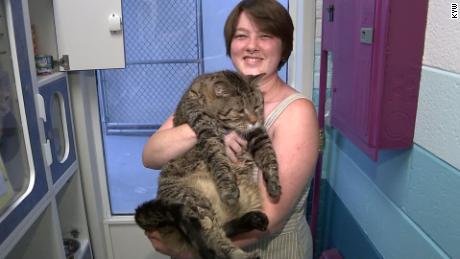 A cherished chonk Look at this magnificent boy! Yes, we know when cats get fat they run the risk of all sorts of health problems and we're not trying to glorify that, but large cats need love too! This is BeeJay, a 26-pound (!!!) tabby from the Philadelphia's Morris Animal Refuge who waddled to internet fame after the shelter posted photos in the hopes of someone adopting him. Whether it's his rotund figure or his "mired in the depths of ennui" eyes, BeeJay became an instant star. In fact, the shelter says so many people have shown genuine interest in having the honor of BeeJay's presence it may actually be awhile until they sort out his forever home. Oh, and for the record, they say he really is just big-boned. (Side note: If your Facebook feed is feeling a little depressing, I highly suggest you join a cat appreciation group. They're deeply wholesome places.)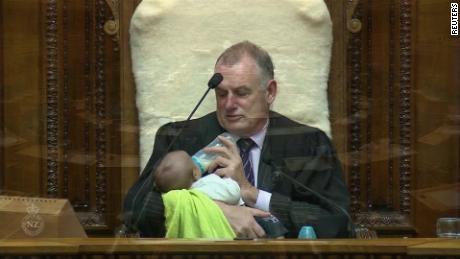 A baby in Parliament Well, it's settled. This baby needs to grow up to have a powerful career in government, or he'll never match the time he took to the chamber floor at the New Zealand Parliament. The country's parliamentary speaker Trevor Mallard made hearts explode this week when he held and fed the one-month-old son of lawmaker Tāmati Coffey while presiding over a debate. (Coffey had just returned from paternity leave and was close by.) People on social media loved the moment because they said it drove home the importance of family and normalized the idea that professionalism and parenthood aren't mutually exclusive.Raise a glass to…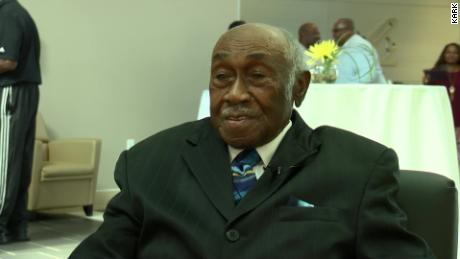 Sgt. 1st Class Thomas Franklin Vaughns, a 99-year-old Tuskegee Airman and a veteran of World War II and the Korean War. Whew, the resume! This week, Vaughns was celebrated in his home state of Arkansas and presented with five Army medals for his service through the years. Four of the medals were replacements for honors he had initially received, but were misplaced. The fifth, the National Defense Service Medal, was given to him for the first time. We love Vaughns' words of wisdom for young people: When you have the opportunity to go to school, stay in school," he said. "When you come out … come out with the idea of serving people."A bright idea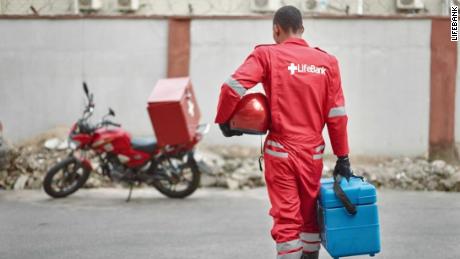 What do you get when you cross the lifesaving gift of blood with, say, Postmates? LifeBank, a unique company that's powering blood donations in Nigeria. The country has a deficit of more than a million pints of blood per year, so LifeBank is trying to improve the numbers by safely transporting blood to patients who urgently need it. They get the job done with a host of delivery people who navigate through Nigeria's dense urban centers to transport blood and oxygen from medical banks to hospitals. The organization has partnered with Google Nigeria to include maps and GPS locations in its app, making the delivery process as fast as possible. You gotta see this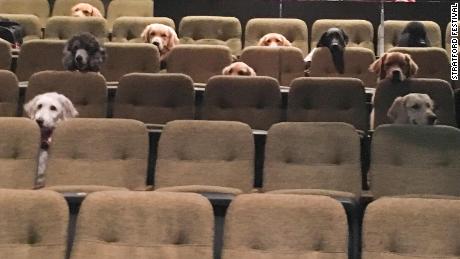 Let's have a round of a-paws (I'm so sorry) for this group of very well-behaved service dogs. About a dozen dogs from the K-9 Country Inn Working Service Dogs Organization took in a performance of "Billy Elliot: The Musical" at Ontario's Stratford Festival. The outing was part of their training, and the K-9 class stayed polite and alert throughout the whole show. (Hey, that's better than some humans we know.) Wanna get away?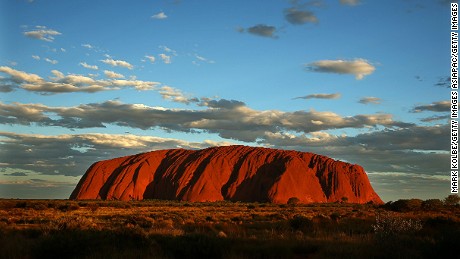 Last week I asked what the most beautiful place you've ever been was, and our Good Stuff inbox filled up with your gorgeous pictures and thoughtful stories. We loved going through them, from a pristine Alaskan waterfront to some truly stunning sunset pics. The CNN Travel team loved them too, and it sparked quite a discussion. Here's one of their "most beautiful" picks, the sacred lands of Kata Tjuta in Australia. Hear, hear! Beauty is not what's outside, it's who you are. What's inside is your true essence, and beauty comes from within. It's pure energy. – Khoudia Diop, a Senegalese model who says she was teased for her strikingly dark skin, but used the experience as fuel to chase her professional dreams and find self love. Tell us something good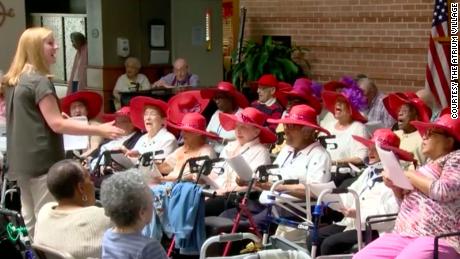 Owings Mills, MD Assisted-living homes can be wonderful places for seniors to age safely, but dementia and other common afflictions among elderly people can also lead to depression and isolation. The staff at the Atrium Village senior living center has a creative solution that helps residents stay active, bond with each other and even engage in some valuable therapy. The Village Voices chorus is made up of residents of all ages and abilities, and they're a pretty big deal around town. They've performed at an arts festival in Baltimore, and even sang the National Anthem at a Baltimore Orioles game! Activities director Joelle Campbell says engaging with the music helps patients with dementia, aphasia and other disorders.The residents look after each other during rehearsals and encourage others to participate, so no one is left feeling lonely. Thank you to Joelle Campbell for suggesting this story. Shameless animal video There's always time for cute animal videos. That time is now. All jumping baby goats are cute, but this one is outrageously adorable even by jumping baby goat standards. (Click here to view)
Source Link:
https://www.cnn.com/2019/08/24/us/the-good-stuff-082419/index.html
[0.687987]
Comments
comments