Ron Avi Astor holds the Marjorie Crump Chair Professorship in Social Welfare at the UCLA Luskin School of Public Affairs with a joint appointment in the UCLA Graduate School of Education and Information Studies. He is the author, most recently of Bullying, school violence, and climate in evolving contexts: Culture, organization and time. He co-authored a recent policy brief on basic needs of students in schools during the Covid-19 era. He is a member American Academy of Social Work and Social Welfare and the National Academy of Education. Follow him on Twitter @AstorAvi. The views expressed are his own. View more opinion articles on CNN.
(CNN)Much of the talk on school reopenings has focused on technology, how to balance parent work and childcare with online schooling, best techniques to engage students online and social-emotional learning (SEL) strategies. However, amid a pervasive pandemic, students' more basic needs — like housing, mental health, the connectivity gap and food — are not the top priority at the national level. They should be.
But here I'd like to focus on the most basic need: Food
Ron AstorThe federal National School Lunch Program (NSLP) was launched and signed into law in 1947 by President Harry Truman because our country understood that it is not possible to learn, develop or thrive in school if a student is sitting in class hungry. About 30 million students a year receive free or reduced price meals each school day through this program. In 2018 close to five billion lunches were served to students nationwide. This does not include the breakfast programs. Then in 2020, the pandemic arrived in the United States. Read MoreHungry children have not vanished. In fact, judging by the growing number of unemployed workers and long lines at food banks, the number of food insecure students have increased. Congress, through the United States Department of Agriculture, recently extended waivers for its Summer Food Service Program and Seamless Summer Option for students, which allows meals to be served in all areas of the country without cost and includes flexibility of who is able to pick up the food — until December 31, 2020 or until funding runs out. The program has set up nearly 80,000 pick up sites over the last six months and has delivered about 40 million meals. But it is a grossly insufficient response to the needs of students and their families when you look at how many students aren't being reached because of food delivery logistics (or an inability of students, parents or caregivers to go to distribution sites) and lack of a national distribution plan. A majority of school districts surveyed in May by the School Nutrition Association reported that 50% or more of their students in the free meals program were not getting their free meals. Eighty percent of districts reported distributing a lower number of meals served than before the pandemic. Some researchers estimate that only 15% of low-income students in the program receive their meals. In a June national study, more than 62% of school social workers reported that half or more of their school's students were struggling with hunger and food insufficiency.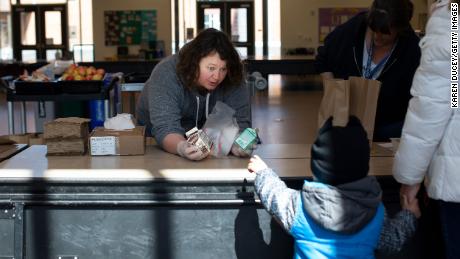 Millions of children threatened by hunger need Congress to come together Things could get even worse if schools cut educational staff due to dwindling state and school funding. School staff have played a key role in the distribution of food to students. With lower staff capacity, large swaths of the country may not be able to provide food for hungry students. We desperately need the current administration and Congress to make sure that every student, particularly those who are distance learning, is being fed before being put in front of computer screens for hours at a time and asked to concentrate on learning. To meet the challenges of the pandemic, we urgently need to: 1. Create a national task force that will generate a national, working plan to feed all hungry students. No new laws are needed. As a nation we recognized our obligation to prevent hunger through school meal plans many decades ago. Federal funds are already allotted for these tasks. But some regions are overwhelmed with requests for food and will likely need extra funding. We should fully fund the existing program to match the growing needs and create a coherent federal plan to help states and school districts feed the large numbers of hungry students. 2. Know which eligible students are getting food and whom we are missing. We need funding for a more accurate school-by-school accounting on meals and ongoing food needs.Even though the NSLP and summer meal programs are federally run, and we are in a national food crisis for millions of families, we have no publicly available, accurate, real-time assessments on how many students have been receiving free meals since school closed. Even with the herculean efforts we saw in the spring as the pandemic hit and school districts and volunteers scrambled to get meals to students, we know that not all eligible or enrolled students in those districts are being fed. Millions more enrolled and, because potentially eligible students don't always live in districts that have initiated Covid-19 school breakfast and lunch distribution programs, those providing services often are reaching only a fraction of students who are eligible. Provide funding for logistics and increase human capacity, focused exclusively on the distribution of food to all students and their families. Feeding students cannot be left only to local ingenuity and dedication. This is a massive task. Teachers are volunteering, bus drivers are driving their routes to get food out wherever they can. These sporadic efforts are laudable but not enough. 3. Increase funding for public-private partnerships to cover breakfast, lunch, and dinner, including weekends — for students and their families. Depending on the school, the federal free and reduced breakfast and lunch program offers only one or two meals each school day. The federal programs do not offer students other meals during the week or on the weekend. What's more, school-based meals do not address the hunger of parents, older siblings, grandparents or other family members that are supervising and helping schoolchildren through the hybrid and online educational process at home. Federal funding could dramatically expand partnerships with community or city run food banks and other nongovernmental organizations. Food banks and food industry partners coordinating food services with the school could make the school a center of hope and support for parents and family members. Some districts are doing this work, but this should not be a haphazard patchwork approach. It should be systemic and federally led. We are talking about a federal food program after all. Using new stimulus funds to encourage organized distribution systems of food is another possibility that would help local districts manage these tasks over the long haul of Covid-19.4. Re-deploy police funding and reassign school police and school resource officers as part of the local and national food distribution effort. As the Black Lives Matter movement has reminded us, many of our hungry students are in communities that are also hit by underfunding, over-policing and punitive tactics that have been used to create the school-to-prison pipeline. If we as a nation — awakened by the pandemic and recent social unrest — redistribute resources by defunding police, let's make sure these resources are reallocated where they are needed most. We should use funds that are already being divested from police departments to help organize, distribute and reach the millions of students still not being fed. New York City, for example, is redirecting hundreds of millions of dollars from the New York City Police Department to New York City Schools and social service organizations for youth and social service programs. As part of the city and school district plan, 5,500 NYPD school police officers will be retrained and transferred to the Department of Education. While it is still not clear what the retrained officers will do or what training they will receive, engaging this large workforce to distribute food to students who need it would be a good path forward. Just imagine if instead of policing school hallways, the newly trained officers become engaged in providing food to hungry students and their families. This would be a concrete way to reconnect the school and community by feeding students and parents in a spirit of care. Other school districts and cities are redirecting police funding for social services. Using these human and fiscal resources to help feed and distribute food to students is an excellent way to address both economic and racial inequities and hunger.Get our free weekly newsletter
Sign up for CNN Opinion's new newsletter.
Join us on Twitter and Facebook
We need to send a national message to our students and their families in struggling communities that we care about their hunger. Students are hungry today. They cannot wait to eat only after a vaccine is found and distributed. If we want to show care and teach social-emotional support, particularly during this pandemic, then we must take collective national action to attend to the basic needs of hunger, compounded by racial and systemic economic social injustice. Start with the basics of relieving hunger. Provide food to all enrolled and eligible students. Hungry students and families will remember these actions many decades from now. Let us not be like Marie Antoinette and respond to students' cries for food by deferring, offering excuses about logistics, costs, or apathy. That would be no different than saying, "Let them eat cake."
Source Link:
https://www.cnn.com/2020/09/14/opinions/hungry-students-distribution-national-plan-astor/index.html
Bad Request
Your browser sent a request that this server could not understand.
Size of a request header field exceeds server limit.
Comments
comments