(CNN)The 2018 Winter Olympics are set for February 9-25. Here's a quick guide, including location, new events, venues, how to watch the Games, the mascot and ticket sales. Competitions will be held at 13 venues for the Winter Games. For the first time, TV viewers in all US time zones will have access to live coverage of the Games, instead of a delayed replay.
What city is hosting? The host city this time is PyeongChang, South Korea. 2018 Winter Olympics
For more CNN coverage of the 2018 Winter Olympics, go to cnn.com/olympics
The city is about 80 miles (125 kilometers) east of Seoul and about 60 miles south of the Demilitarized Zone separating North and South Korea. A train between Seoul and PyeongChang takes about 90 minutes. Officials announced in 2011 that the city had beaten top bids from Munich, Germany, and Annecy, France.Read More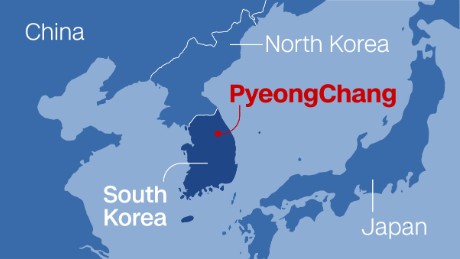 Has South Korea hosted before?This will be the second Olympic Games held in South Korea. (Seoul hosted the Summer Olympics in 1988.)Opening and closing ceremonies will be housed at PyeongChang Olympic Stadium, a temporary structure with capacity for 35,000 spectators.When do the Games take place? Competition for the 2018 Games starts on Thursday, February 8.Opening ceremonies will take place the next day, Friday, February 9. Closing ceremonies will be Sunday, February 25. Other details: The men's ice hockey final will take place on the last day of competition. Luge, ski jumping and biathlon events will take place at night, under floodlights, according to the Games' website. See more about the schedule hereWhat's the time difference?South Korea is 13 hours ahead of New York. It's 14 hours ahead of Chicago. It's 16 hours ahead of Los Angeles. It's eight hours ahead of London. How to watch For those in the United States, NBC will broadcast the games on TV and online. In the United Kingdom, fans can watch the Games on BBC TV and digital platforms.Are there any new events this year? There are four events added by the International Olympic Committee for 2018. On the slopes, athletes will now be able to compete in big air snowboarding and freestyle skiing.On the ice, get ready for mass start speed skating and mixed doubles curling. Overall, the athletes at PyeongChang will compete in seven sports — biathlon, bobsleigh, curling, ice hockey, luge, skating and skiing — with 15 varied disciplines across all sports. The competitors each will be hoping to take home at least one of the 102 medals up for grabs. What do the medals look like? Created by designer Lee Suk-woo, the medals for these Games feature dynamic diagonal lines and three-dimensional consonants from the Korean alphabet that stretch across the face, according to the official website. They've been crafted with a texture to resemble tree trunks, symbolizing "the work that has gone into developing Korean culture and the Games themselves," the website said. Between the bronze, silver and gold medals. the gold weighs the most — at 586 grams. Overall, 259 sets of medals have been cast for these Games.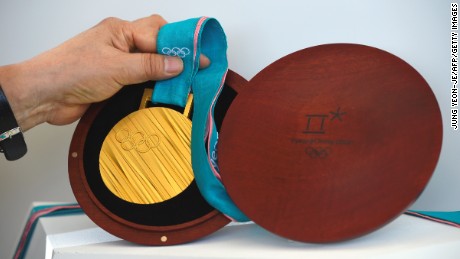 The PyeongChang 2018 Olympic gold medalFinancial hurdlesSouth Korea has already managed to overcome a few major hurdles, including construction delays, logistical conflicts and lack of enthusiasm from sponsors. But early ticket sales have been slow. Organizers are $267 million short of the $2.4 billion budget needed to operate the games. Still, previous host cities that faced similar financial issues saw a large increase in ticket sales during the final months leading up to the games.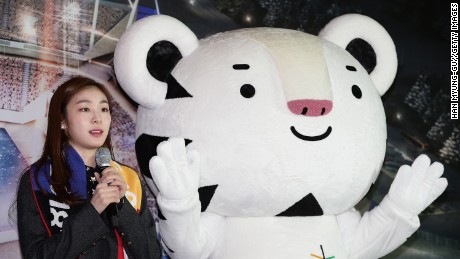 Former Olympic figure skater Yuna Kim introduces Winter Olympics mascot Soohorang the white tiger.What is the mascot?The 2018 mascot is a white tiger named Soohorang. The tiger is "closely associated with Korean mythology and culture" and is a "familiar figure in Korean folk tales as a symbol of trust, strength and protection," according to the Games website. Honorary ambassadorsAlong with former Olympic figure skater Yuna Kim, honorary ambassadors for these Games include South Korean President Moon Jae-in, former NFL wide receiver Hines Ward and Los Angeles Dodgers baseball pitcher Hyun-jin Ryu.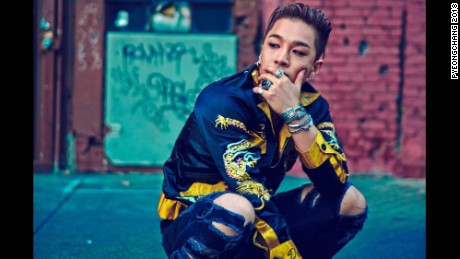 K-pop star Taeyang lends support to 2018 Winter OlympicsAnother honorary ambassador, South Korean K-pop star Taeyang, is a member of Big Bang, South Korea's biggest boy band. He's also the first K-pop act to be featured on Forbes' prestigious Celebrity 100 list.Where and when did the first Winter Games take place? The 2018 Games in PyeongChang will be the 23rd Winter Olympics. The first Winter Olympics took place in Chamonix, France, in 1924. Where will future Games be held?After South Korea, the Winter Games move to Beijing in 2022. You might remember Beijing hosted the Summer Olympics in 2008. The next Summer Games will be in Tokyo in 2020, followed by Paris in 2024 and Los Angeles in 2028.
Source Link:
http://www.cnn.com/2017/09/29/sport/2018-winter-olympics-what-to-know/index.html
[0.0738419]
Comments
comments