(CNN)Waves of deadly airstrikes against rebel-held areas in Syria have made this week "one of the bloodiest periods of the entire conflict," the UN human rights chief said Saturday.
Opposition-controlled areas in Syria's northwestern province of Idlib and Eastern Ghouta, outside the capital, Damascus, have suffered intensified bombardment by what observers say are Russian-backed Syrian government forces.UN High Commissioner for Human Rights Zeid Ra'ad Al Hussein called for urgent international action to halt the bloodshed after reports of 277 civilian deaths between Sunday and Friday. More than 800 civilians also were reported injured, the UN human rights office said.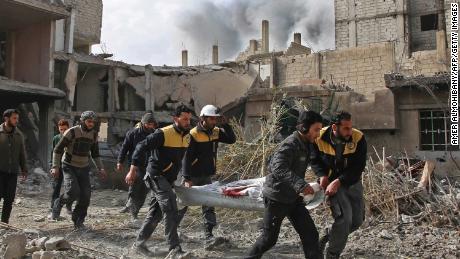 White Helmets rescuers evacuate a victim of an airstrike Thursday in the rebel-held enclave of Hazeh."The past week has been one of the bloodiest periods of the entire conflict, with wave after wave of deadly airstrikes leading to civilian casualties in areas of Eastern Ghouta and Idlib," Zeid said in a strongly worded statement. "The no-holds-barred nature of this assault is evidenced by reports that at least nine medical facilities, six of them in Idlib and three in Eastern Ghouta, were hit by airstrikes. Even by Syria's atrocious standards, these are exceptionally deplorable developments."Read MoreParamedics and volunteers were also killed and injured in a number of places "after second, third or fourth rounds of airstrikes apparently deliberately targeted places that had already been hit earlier in the day," the statement said.More than 200 of those killed were in Eastern Ghouta — more than a quarter of them were children.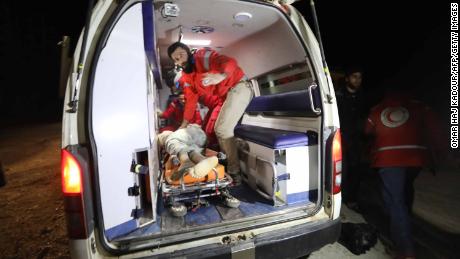 Syrian emergency services treat a victim rescued from a collapsed building after airstrikes on Idlib.At the same time, rockets and mortars continue to be fired from rebel-held areas in residential areas of government-held Damascus and surrounding suburbs, the statement said. At least seven civilians have been reported killed and 18 injured between Tuesday and Friday, it said.Zeid noted that both Idlib and Eastern Ghouta are supposed to be "de-escalation zones" according to a peace agreement struck by Russia, Turkey and Iran in May.At least 2 million civilians live in Idlib province, according to the UN human rights office, while some 350,000 people are believed to be trapped in the Eastern Ghouta area.
Mattis warns Syria against using chemical weaponsAccording to the statement, the UN office staff has received reports and video footage suggesting that "toxic agents" may have been released following airstrikes Sunday on a residential area of Saraqeb. UN human rights experts said Tuesday they were investigating reports of alleged chlorine bomb attacks on civilians in Saraqeb and the city of Douma in Eastern Ghouta.Zeid called for civilians to be protected and for the "prevailing climate of impunity" to end."After seven years of paralysis in the (UN) Security Council, the situation in Syria is crying out to be referred to the International Criminal Court, as well as for a much more concerted effort by (s)tates to bring peace," he said. "The conduct and management of this war has been utterly shameful from the outset, and the failure to end it marks an epic failure of global diplomacy."
Source Link:
http://www.cnn.com/2018/02/10/middleeast/syria-violence-united-nations-intl/index.html
[-0.567755]
Comments
comments